The number of new COVID cases on the North Shore crept up slightly in the past week.
There were 99 new cases of COVID-19 on the North Shore in the past week — a number slightly higher than the 84 cases the week before.
Between Sept. 26 and Oct. 2, there were 84 cases in North Vancouver and 15 in West Vancouver, according to information released by BC's Center for Disease Control.
The number of new cases on the North Shore remained below 100 this week for the third week in a row – down from the numbers earlier in September when the fourth wave of the pandemic began.
Data from the BC CDC show that there has recently been a higher incidence of cases in the western District of North Vancouver, where there have been 13 new daily cases per year. 100,000 people between September 28 and October 4. Positive COVID test rates are four per cent. Daily case rates on the rest of the North Shore range from a low of two per. 100,000 in the lower Ambleside area of ​​West Vancouver to eight per. pct.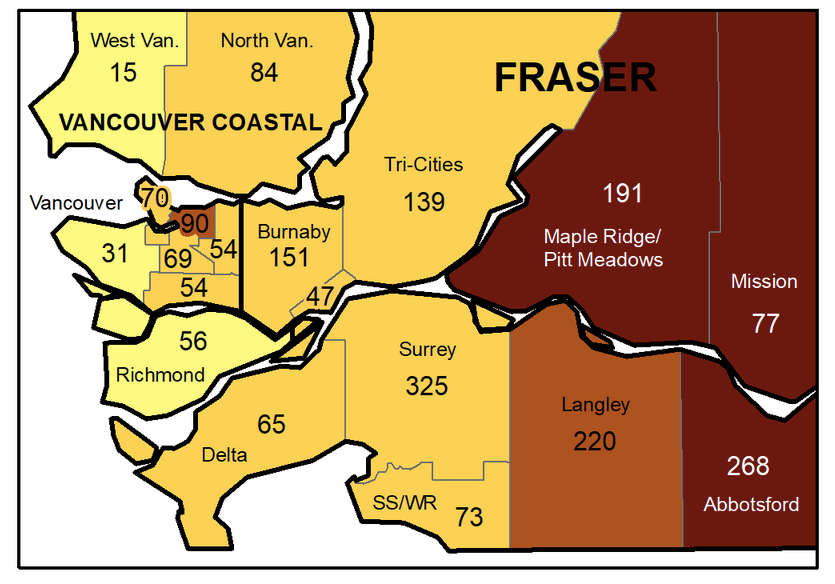 Vaccination rates on the North Shore are still rising very slowly, with between 89 and 93 percent of people over the age of 12 receiving a dose and between 84 and 89 percent of those fully vaccinated.
Between 81 and 86 percent of teens between 12 and 17 are fully vaccinated on the north coast, while between 80 and 88 percent of adults between 18 and 49 have received both shots. Vaccination rates remain highest in adults over 50 years of age.
Provincially, 752 new cases of COVID-19 were reported on Wednesday. A total of 350 people were in the hospital with COVID or COVID-related complications, while 136 people were in intensive care.
In the past week, about 70 percent of admissions to the province were among people who were not fully vaccinated.
Hotspots continue in the inland and northern health regions as well as in the eastern Fraser Valley.
On Thursday, BC Premier John Horgan called the current situation a "pandemic of the non-vaccinated."
The BC government recently announced a mandatory vaccine mandate for all provincial state workers, adding the vaccine requirement to all federal government workers. However, the province has stopped making vaccines mandatory for teachers and school staff and leaves these decisions to individual school boards.
Since starting school, there has been a significant increase in COVID-19 cases among school children aged 5-11 years who cannot yet be vaccinated, according to the BC CDC. There has also been an increase in the number of children being tested as other respiratory viruses have once again started circulating more in a way that they did not last year.
A decision by Health Canada on approvals of vaccines for children under 12 is expected soon.