In the latest special section of the trade of the Real Footy podcast, Peter Ryan and Scott Spits assess the situation on day five. After days of constant movement and development, activity stopped on Friday before a late appointment where Callum Coleman-Jones went to North Melbourne and Robbie Tarrant found his way to Richmond. It aroused interest for a moment.
But lots of interest was centered around Hawthorn and the prospect of one or more of their experienced players being put on the trade.
However, Peter Ryan put the situation in perspective.
"The general perception at the moment, which is reasonable, is that the four players – Tom Mitchell, Chad Wingard, Jaeger O'Meara, Jack Gunston – could be all I can sell," he said.
"They are all veterans – or at least 26, 27 [years of age], they could probably command a reasonable choice at the draft table. The Hawks are looking to get as many high drafts as they can. That's the security they would potentially use.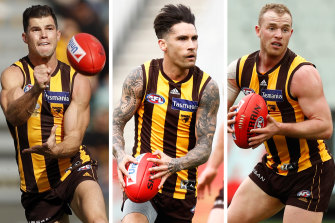 "But the feeling that they are going to leave is a bit exaggerated. Jeff Kennett's e-mail to members in which he said that things can happen that players and supporters are unhappy with – probably created a little [bit more] hysteria than really is reality.
"The reality is that they have not really discussed – the Hawks – have not really discussed players who go elsewhere with other clubs. They have left it too late. Clubs have tight pay ceilings, so they do not exactly have extra money to accommodate these players. "
Plus, the latest on Brisbane's interest in Darcy Fort, an update on Fremantle's Rory Lobb and, no doubt, today's story, Geelong's switch to signing coach Chris Scott for another two years.