After a pandemic enforced break, Frieze's iconic white tent is back in the capital with a bumper event celebrating inclusivity and mastering new talents. But the best events and art openings reach far, far beyond the tarpaulin and activate the city's pockets with an exciting mix of art – whatever your taste.
Here are the art exhibits and openings we look forward to this month, including a triple bill of 180 The Strand, highlights in stalls and recreation of an iconic black community from LA to London.
'Lux: New Wave of Contemporary Art' by SUUM Project with Fact at 180 Studios, 180 The Strand
The physical and virtual collide with the interactive group show, Lux: New Wave of Contemporary Art, which explores the intersection of digital technologies and audio. Organized by the SUUM Project in collaboration with Fact at 180 Studios, 180 The Strand, the gigantuan show transforms the physical framework of the brutalist space through technology, sensory stimulation and the color spectrum.
Highlights include Es Devlin's sensory environment, 'BLUESKYWHITE'; 'Black Corporeal (breathe)' – a critical examination of the relationship between materiality and the black psyche by Julian Knxx; and a new kinetic media sculpture 'Flower Meadow' by Swiss Studio for Media Architecture Art Studio iart.
Korean collective a'strict, Je Baak, Cecilia Bengolea, Cao Yuxi, Carsten Nicolai, Random International, Hito Steyerl and Universal Everything will also present works alongside the British premiere of Refik Anadol's Renaissance Generative Dreams.
Daniel Arsham x 180 Studios presents 'Bronze Garden' (2021)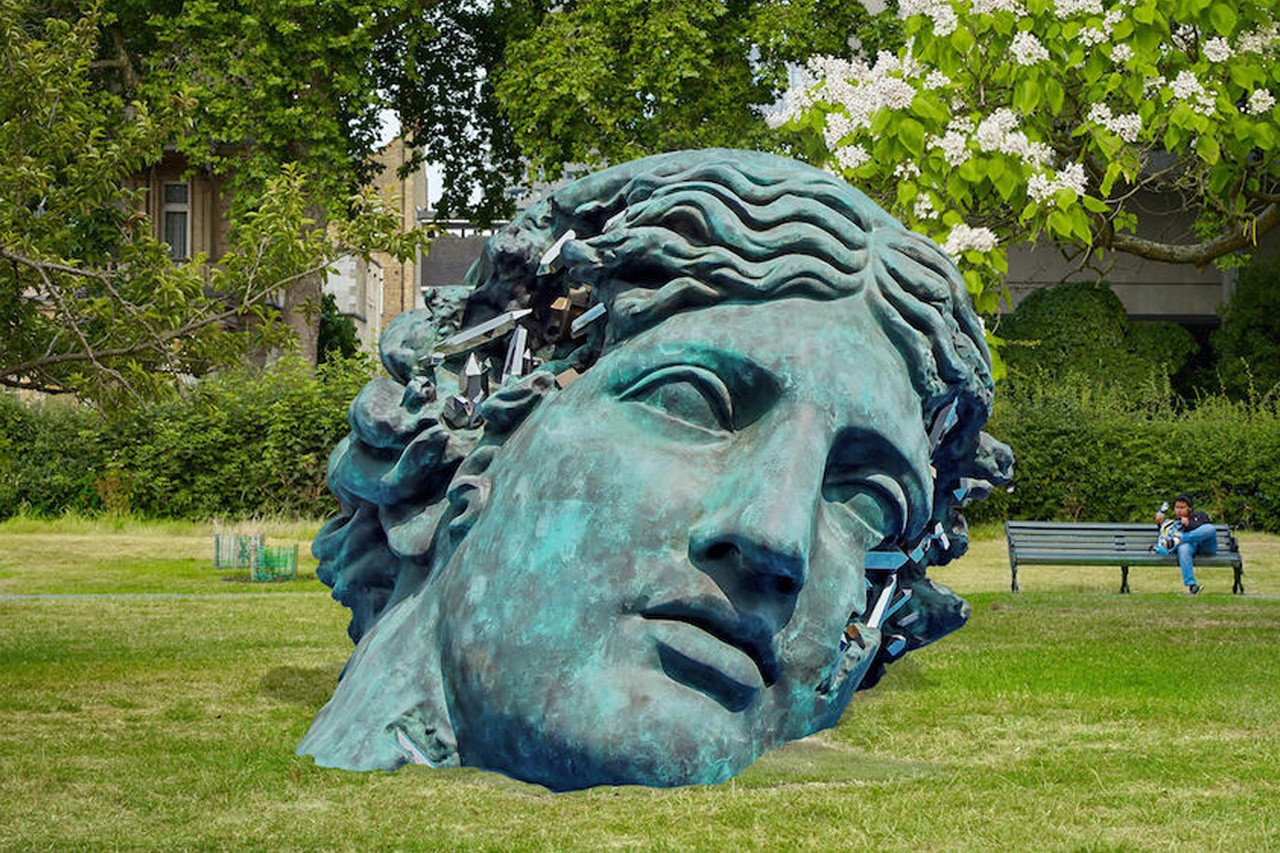 Visitors on Lux can calibrate again with a quick meditation session with Daniel Arsham Bronze Have – a zen sculptural space presented by the artist in collaboration with 180 Studios.
Perceived as an independent installation in itself — Julian Knxx's triple-screen film presentation, In praise of still boys on The Store X – the architectural intervention is a physical film for the digital group show upstairs and promises to be highly instagrambar.
Noah Davis and The Underground Museum by David Zwirner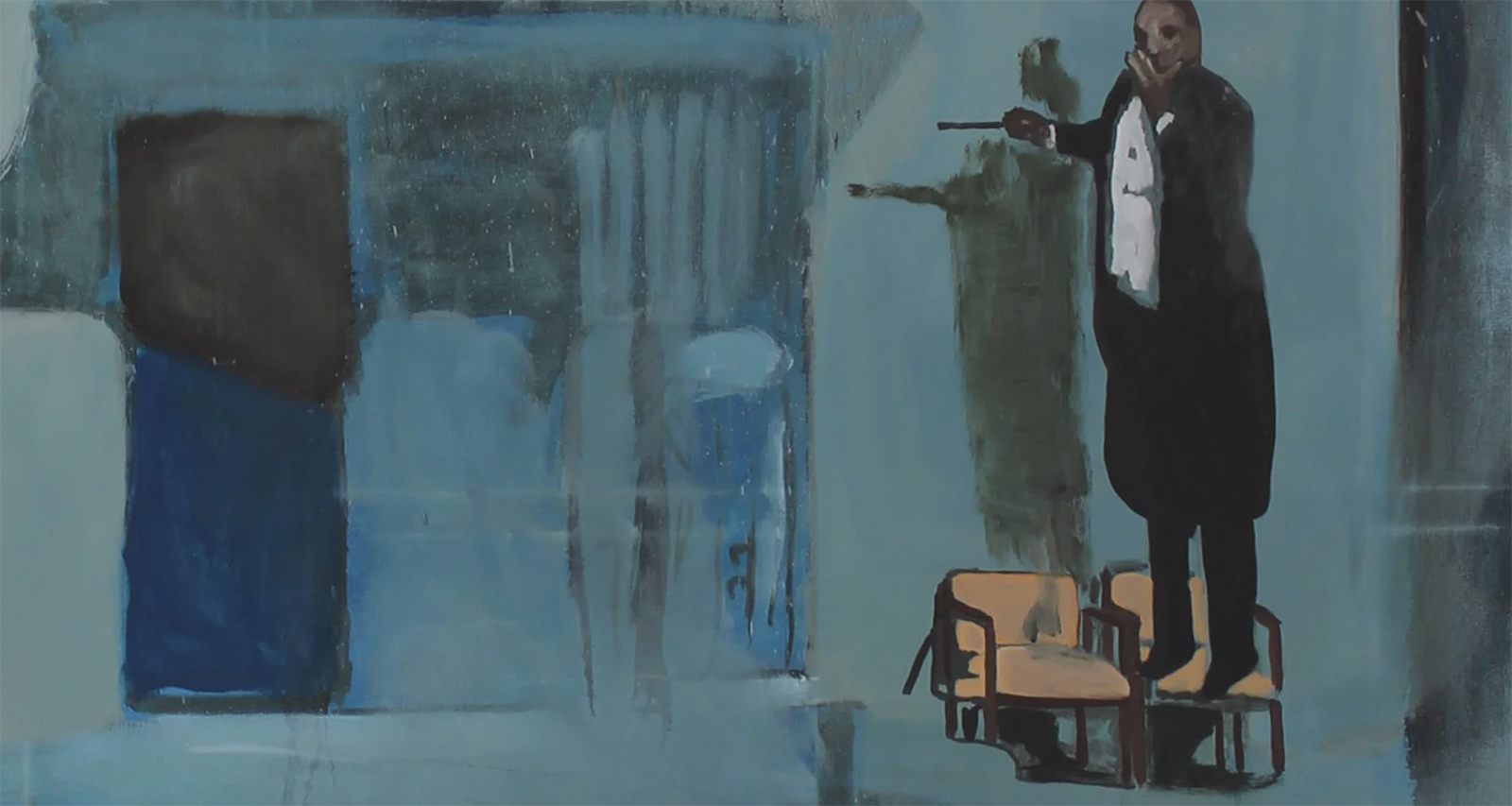 It's six years since the art world lost Noah Davis, but the painter and activist continues to bring people across the globe together with his enigmatic shows exploring black culture. During Frieze, the David Zwirner Gallery will present the first British solo show of Davis' fascinating portraits, including a series of works on the Pueblo del Rio housing project, conceived by Paul Revere Williams. Davis took photographs of the property as references, translated them through paint, and filled the foreground with figures of its inhabitants.
In addition to his body of visual work, Davis' legacy lives on through the Underground Museum in Los Angeles, which he co-founded with his wife and co-artist Karon Davis. The community space with gallery is among North America's most important art galleries, and its offices will be recreated in the upper spaces to coincide with Frieze.
Maotik x La Prairie presents 'Sense of Blue'
It's a sensory affair at the Swiss skin care brand La Prairie's introductory presentation in Frieze London, which sees them collaborate with French digital artist Maotik to create another, world immersive environment that explores the depths of color, cobalt blue.
Maotik is known for using computer-generated algorithms, low-frequency sounds and elaborate lighting effects to distort its audience's sense of space and experience with its immersive installations. Sense of blue borrows many of these tricks with the addition of motion sensors and changing blue and black lights. The result promises to be staggering.
Frize Sculpture 2021 in Regent's Park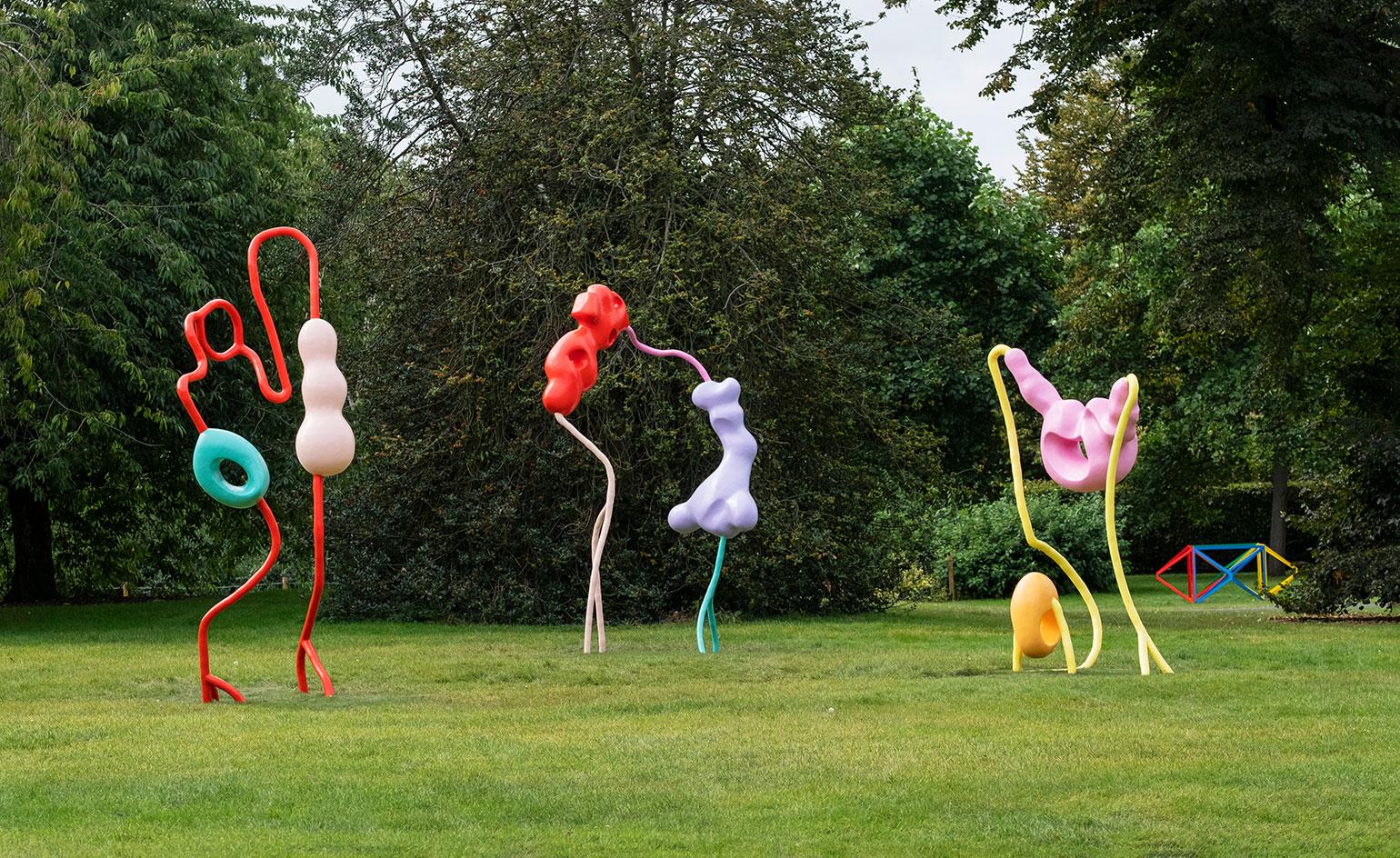 Running until 31 October in London's Regent's Park, Frieze Sculpture kicked off the start of Frieze festivities with a bumper range of playful site – specific works from e.g. Vanessa da Silva, Rasheed Araeen, Daniel Arsham, Rose Wylie and Yunizar to name a few. The show, curated for the ninth time by Clare Lilley, host of the Yorkshire Sculpture Park, explores themes such as architecture, the environment, geopolitics and displacement. Pieces range from giant pineapple to a fragment of the Serpentine Pavilion from 2021, presented by Counterspace.
As outdoor sculpture gained new significance in the wake of the pandemic, Frieze Sculpture has increased in importance in the current climate. It provides an accessible way for visitors to experience art at a safe, social distance.
AA Murakami x Superblue at Burlington Gardens
Tokyo / London-based artist duo AA Murakami, the artists behind Studio Swine, present Quiet fall in partnership with Suberblue — a site-specific, multi-sensory installation set up for Burlington Gardens.
Quiet fall see the audience experience an endless forest that stimulates the senses and explores the boundary between organic and artificial. In a playful twist, 'trees' produce hundreds of mist bubbles – the visualization of their hard work that converts CO2 into oxygen. When each bubble bursts, it releases a natural scent, from moss to rain or pine.
Superblue opened its Miami space earlier this year, bringing digital art to the masses.
Wangari Mathenge at Pippy Houldsworth Gallery
The domestic space plays a major role in the paintings of American-Kenyan artist Wangari Mathenge at her debut British solo show at the Pippy Houldsworth Gallery. Her large paintings respond to Mawuna Remarque Koutin's essay, "Why are white people posted when the rest of us are immigrants?".
Mathenge recreates the living space of the 1970s in large format, draws from childhood photographs and presents his ongoing series, The ascents, which shows portraits of figures surrounded by objects representing their time, location and culture.
Theaster Gates: 'A Clay Sermon' at Whitechapel Gallery
This show at London's Whitechapel Gallery could almost be considered a prequel to Theaster Gates' 2022 Serpentine Pavilion design. A Clay Sermon (2021), hold a musical sermon that mixes elements of gospel singing with improvised jazz music as part of the exhibition. It begins the artist's years-long, multi-venue study of the material and spiritual significance of clay in crafts, labor, community building, religion, colonialism and global trade, culminating in his design for the Serpentine Pavilion next summer.
'Social Works II' curated by Antwaun Sargent on Gagosian
Curator Antwaun Sargent has put together an all-star cast of artists and architects from the African diaspora for Social Works II. This Gagosian group shows probes the connection between space and artistic practice, geography and identity.
Among its many highlights is the sculptural wall fragment of the Serpentine Pavilion architect Sumayya Vally, which will be used as a place for research and rituals. At the same time, David Adjaye presents earth-framed sculptures that explore this ancient and innovative West African way of building.
'The French Dispatch' at 180 Studios, 180 The Strand
Few directors have established their aesthetics as artfully as Wes Anderson, and to celebrate the release of his 10th film, The French dispatch, objects, props and sets from the movie are reset inside 180 The Strand. Fans of the author's work will have the opportunity to look behind the curtain and see how his artistic vision comes to life before embracing fiction with a trip to Le Sans Blague Cafe, recreated in meticulous detail inside the brutalist building.
Sung Tieu on Frieze: Focus
Sung Tieu's solo booth at Frieze's Focus section shows her new film, inspired by 'Havana Syndrome'. The mystery disease was reported by diplomats staying at a hotel in the Cuban capital, with victims experiencing nausea, headaches and acoustic pressure in the head-believed to be caused by sonic manipulation, frequencies and espionage during the Cold War.
Tieu's film uses footage from the hotel along with MRI scans and visualizations of her own brain under the influence of sound warfare and acoustic weapons to examine how our architectural and sound environments can affect our well-being.
Lakwena gives Temple Station's roof terrace a technically colored makeover