"Ms. Ressa has also documented how social media is used to spread fake news, harass opponents and manipulate public discourse."
Australian journalist Peter Greste has described Ressa as "one of the toughest and bravest people I have ever encountered".
"She's been taking a sustained kick for so long," he said Good weekend.
Ressa held back tears and said of her victory: "It is an acknowledgment of the difficulties, but also hopefully of how we are going to win the battle for the truth, the battle for the facts. We keep the line. "
Muratov is a longtime defender of freedom of expression in Russia and was the founder of the independent newspaper Novaja Gareta. Six of the masthead's journalists have been killed since the newspaper was founded in 1993.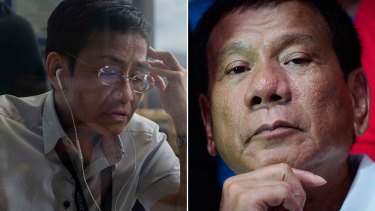 "Despite the killings and threats, editor-in-chief Muratov has refused to abandon the newspaper's independent policy," Reiss-Anderson said during Friday's ceremony.
"He has consistently defended the journalists' right to write what they want about what they want. Free, independent and fact-based journalism serves to protect against abuse of power, lies and war propaganda. "
Muratov said he "laughed" at the acknowledgment: "I did not expect it at all. It's crazy here right now. I saw a call from Norway, but I thought it was an unwanted call.
"Here's what I want to say: We will continue to represent Russian journalism, which is now being suppressed."
Last year's award went to the UN World Food Program for its work in combating acute hunger.
The Nobel Prize has been running since 1901.
Alfred Nobel's will stated that the award should go to "the person who has done the most or the best to promote unity between nations, the abolition or reduction of standing armies and the establishment and promotion of peace congresses".
On Tuesday, three scientists won the Nobel Prize in Physics for helping to explain and predict complex forces of nature, including expanding our understanding of climate change.
Syukuro Manabe, 90, originally from Japan and Klaus Hasselmann, 89, from Germany were quoted for their work on "the physical modeling of the Earth's climate, quantifying variation and reliably predicting global warming".
Loading
The second half of the prize was awarded to Giorgio Parisi, 73, for "the discovery of the interaction of disorder and fluctuations in physical systems from atomic to planetary scale".
The panel said Manabe and Hasselmann "laid the foundation for our knowledge of the Earth's climate and how humanity affects it".
While the Norwegian Nobel Committee is led by a woman and has a majority of members who are women, the organization has been criticized for lack of diversity in this year's list of winners.
All eight winners of the 2021 Nobel Prizes in Medicine, Chemistry, Physics and Literature have been men.