A popular South Melbourne hotel has been fined $ 10,000 for violating COVID-19 restrictions.
Paul Dimattina, a former AFL player, said his Lamaro's Hotel was hit by the fine for acting after the introduction of the 20-time COVID-19 lockdown last Thursday.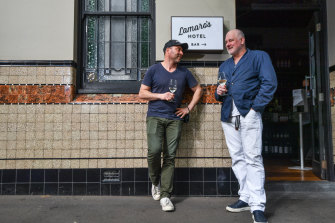 He stressed that he had nothing negative to say about the police, but was upset and confused as the hotel did not shop past at.
Dimattina said a couple of friends were at the hotel to have a drink with him and comfort him in light of yet another lockdown. He asked for privacy on Monday, saying he was struggling with a physical health condition and his mental health.
Loading
Victoria Police Chief Debra Robertson marked during a press conference on Monday that a place in South Melbourne had been fined, but she did not say it was Lamaros.
"This proprietor received a fine of $ 10,000," she said. "If you violate any of the Chief Health Officer's instructions, then if it's overt and deliberate, the police will obviously fine."
Police also confirmed they were fined nearly $ 11,000 at a location on Collins Street in Melbourne CBD the night Victoria's lockdown took effect.
Police said officers entered the Collins Street premises after 6 p.m. 22.30, they observed "about 20 patrons eating and drinking inside".