In her mayoral minute, she says, the demand for more public park has been driven by changes in the course's surroundings, with housing development replacing shards of mainly industrial areas.
"The Redfern, Waterloo and Green Square … areas are becoming the most densely populated residential area in Australia with an expected population of up to 70,000 people and 22,000 workers by 2031," Cr Moore said.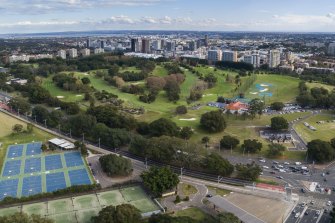 "The proposed Waterloo [estate redevelopment] alone will see another 15 to 20,000 people. By 2040, up to 90,000 more people could live within a catchment area less than 2 miles from Moore Park. "
She said participation in golf was declining and that golfers were "well-groomed", with 12 courses – six of which are accessible to the public – located within 12 miles of Moore Park.
Loading
"Today, 31 million people visit Centennial Parklands, while only 60,000 rounds of golf are played at Moore Park Golf Course each year."
The council will spend $ 50,000 on a community consultation plan for the proposal if the minute is passed – a move that Cr Forster said would be a "shameful" waste of taxpayers' money.
Cr Forster said the entire course should be preserved as it was a "historic public open gem within a stone's throw of the CBD".
"It is loved and heavily used by both locals and visitors. It is economically viable and makes a significant contribution to ensuring that the surrounding extensive park areas can remain open and accessible to all."