A council in Sydney is the subject of an investigation by the corruption watchdog after it voted to refer charges published in Herald to investigators, including one about a trip to China that two councilors took with a developer whose projects they helped get approval for.
Councilors at George's River Council, in the city's south, were notified this week of the Independent Commission against Corruption. It had been prompted by a proposal adopted by a majority in the Council on 23 April last year following a series of That Sydney Morning Herald and ABC.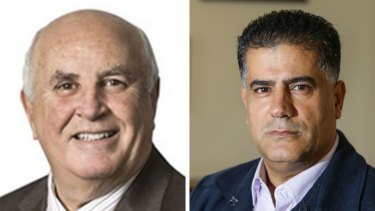 "The Council has received notification from the ICAC that it is conducting an inquiry," a Council rapporteur said in a written statement to Herald on Friday. An ICAC spokesman declined to confirm or deny that the commission was investigating.
Liberal councilor Con Hindi and Labor councilor Vince Badalati apologized for voting on the proposal and left the room after both declaring significant, non-economic interests as they were named in the agenda item up to the proposal.
The point made by independent councilor Sandy Grekas called on the council to ask the ICAC and the Office of Local Government to investigate the couple for not declaring conflicts of interest. It happened after the men flew to China with a property developer behind a proposed redevelopment and a planned 11-story high-rise in their time at the former Hurstville Council, which preceded the merged Georges River Council.
Both men have previously denied any wrongdoing.
That Herald contacted both Crs Hindi and Badalati for comment last Friday, but no one responded before publication.
The latest proposal to forward the allegations to ICAC, from which the men absent themselves, did not refer to the couple by name, but listed the days when stories about the couple were published by Herald.
Either Councilor Hindi or Badalati were mentioned in all but one of the stories reported by the release date, with the exception of revelations that the Chinese consulate bullied the George River Council to ban an Australian-owned media company because they believed it did not suit China's communist Fixed line. This story was also broadcast by ABC's Four corners.