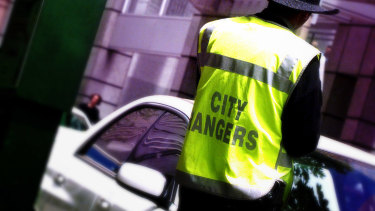 Cr Waller said the council prioritized road repairs, cleaning outdoor parks and maintaining strict hygiene. She acknowledged reduced fines included in the council's budget given "local government does not have many ways to raise revenue".
"We get a financial hit every month during the lockdown. We also do not charge fees for outdoor dining during lockdown, "said Cr Waller. "We are aware that no matter what financial difficulties it entails for our council, it will be a short-term hit; we get the money back quickly. "
The North Sydney Council issued 980 parking fines in August, down from 3,675 in the same month last year.
Mayor Jilly Gibson said she was inundated with phone calls from distressed residents receiving fines at the start of the pandemic, some of whom felt unsafe walking outside to move their car.
"The rangers have only walked around the busy malls and not the residential streets," Cr Gibson said. "It's definitely a hit on our economy."
Cr Gibson said a return of office and construction workers to the area recently prompted the council's decision to return to normal parking enforcement from October 23.
The Waverley Council issued just 246 parking tickets last month, compared to 6,151 parking tickets in the same month in 2020. Revenue from parking fines is expected to fall by $ 2.5 million.
"Fewer parking fines were issued during the current lockdown because staff resources were directed to our beaches," a council spokeswoman said.
City councilors in the city of Parramatta voted in July to ease parking restrictions for three months. Rangers issued 439 parking tickets in August against 2803 in the same month last year. They will decide at a meeting this week whether to continue the eased restrictions.
A council spokesman said reduced travel in the area and easier enforcement meant the council lost about $ 465,000 in parking-related revenue in the past three months.
The city of Sydney, which covers the CBD, issued 1,716 fines in August against 23,525 in the same month last year. A spokeswoman said the council had a flexible approach to parking fines focusing on security during lockdown.
"As the restrictions are lifted and more cars return to our area, we will resume enforcement activities as needed to ensure parking turnover and reasonable access," she said.
The Hornsby Council fined only six drivers in August 2021, down from 988 in the same month last year.
A spokesman for the Hornsby council said most people work from home, so there is less demand for parking at commuter car parks and around train stations.
Loading
"Our rangers have taken on additional duties to support society through this difficult time, including managing social distance in public spaces such as our parks and reserves," he said.
Cumberland, which issued about one in ten parking fines across NSW last month, said via a spokeswoman that other councils have issued more tickets per month. Inhabitant. "The council is here to enforce parking laws, and our society expects us to enforce those laws fairly and equitably," she said.