"Why would [Cr] Moore announces a new bike path to Oxford Street … only to cancel the plans because they were not possible? Asked Cr Scott, who will fight with Cr Moore for the mayoral post in local elections in December.
"Communities are tired of an endless cycle of pre-election announcements, followed by years of passivity and delay."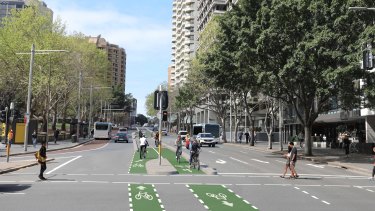 Cr Moore said it was crucial that a design result that the whole community could get behind was achieved because Oxford Street was one of Sydney's busiest cycle routes and had an important history.
"Moving the cycle path to the north side of Oxford Street will make the connection to College Street safe for cyclists and ensure that events can be held on the glittering mile without having to remove center-running infrastructure," she said.
When first announced last year, the council said the "innovative center-running cycleway" on Oxford Street would allow bus lanes, car parks, taxi ranks and cargo zones to function largely as they do now, while providing a safe, fast and direct route for people driving.
Loading
Plans for the revised cycle path along Oxford and Liverpool streets will undergo four weeks of community consultation, and a report is scheduled to be submitted to the council in February. If approved, the project will proceed to a detailed design phase and the cycle path will be built in 2023.
"While it is expected that the cost of the permanent cycle path will be more than originally budgeted for the pop-up cycle path, we aim to limit construction time and the cost of minimizing footpath changes and maintaining existing infrastructure," the council spokeswoman said.
The council said the state transport agency had given approval in principle to the proposal and contributed funds to the design phase of the Oxford and Liverpool cycle lanes.
The state government has not yet released the cost and construction plans for a bike path along another stretch of Oxford Street between Taylor Square and Paddington Gates, which is an entrance to Centennial Park.
The project, which will be semi-funded by the Commonwealth, has been described as the "last piece of the NSW Government's Eastern Suburbs Connecting" election obligation.
The Morning Edition newsletter is our guide to today's most important and interesting stories, analyzes and insights. sign up here.