Along with washing your hands, social distancing and staying home if you feel uncomfortable, we have all heard a lot about spending more time outdoors during the pandemic. In the city of Sydney, this view was the catalyst for a new al fresco dining plan aimed at giving bars, restaurants and cafés some extra space to play with while still working within COVID-19 capacity guidelines. And over the course of the summer, the economy-promoting tactics have surprisingly proved popular.
Enjoying a bite to eat and a few drinks while enjoying fresh air can be a perfect activity in hot weather, but the inner city's shift to outdoor dining is not going anywhere yet. In recognition of the concept's success, Sydney City has just announced $ 5.7 million in additional funding for the initiative, which includes waiving al fresco licensing fees until June 2022.
$ 3.5 million of the newly committed cash will be allocated to tax exemptions, which will help expand the already large number of places that have made the leap to outdoor dining. Since the program was launched in December 2020, 204 permits have been issued, including 116 outdoor eateries on footpaths and 52 on roadways. A total of 2690 square meters of outdoor dining space has been approved so far.
"Giving up outdoor dining fees was one of the first things we did when the pandemic hit Sydney, to make it easier for restaurants, bars and cafes to operate, while encouraging physical distance," said Mayor Clover Moore . "People have really taken it in stride, with participating companies telling us that they have taken on extra staff and experienced increased protection – a vital help to stay afloat in these difficult times."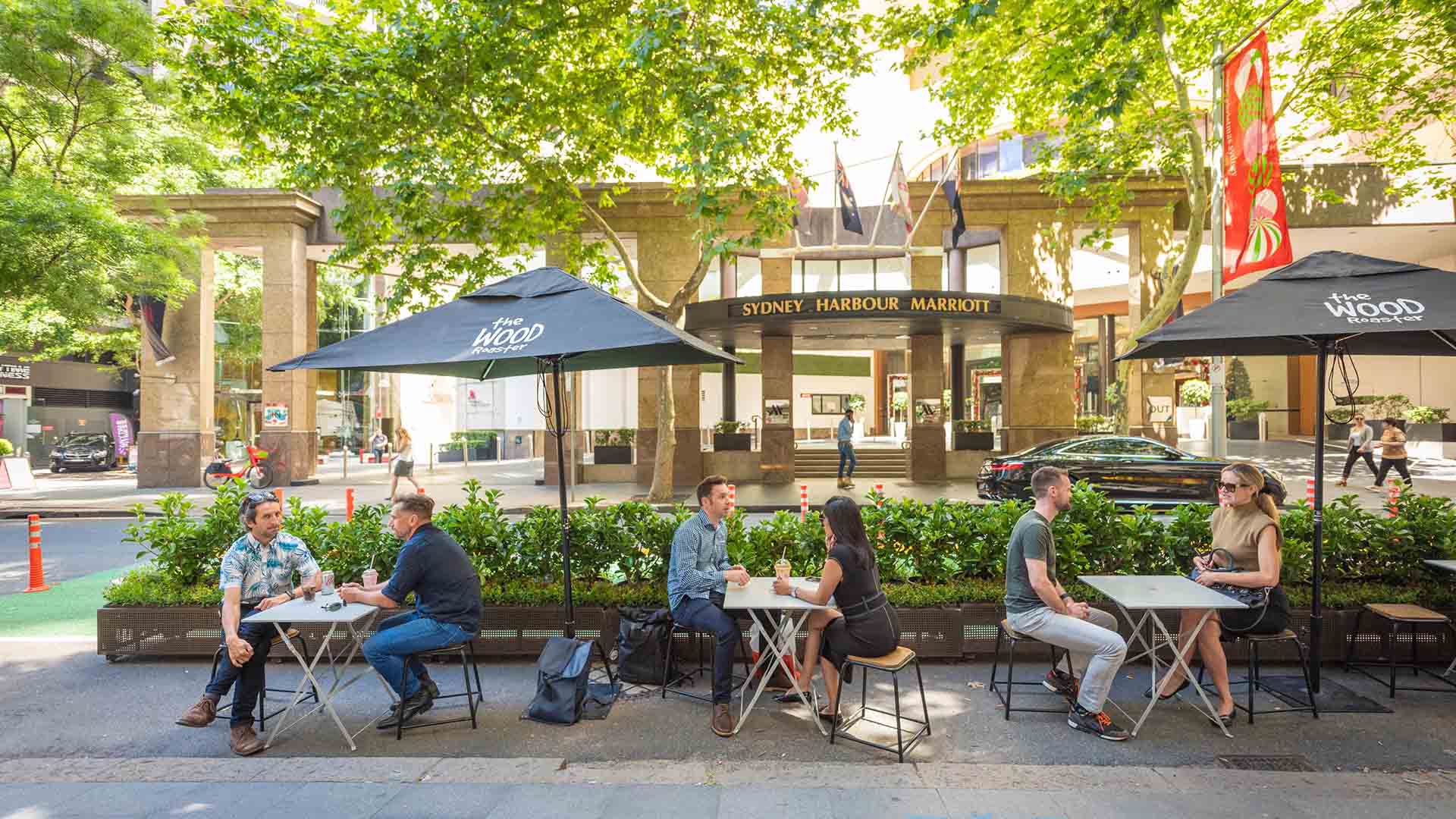 In its quest to help reactivate the CBD by making it easier than ever for venues to offer outdoor dining, evening shopping and live music, Sydney City will also add $ 2.2 million to indoor city events and activations — so you will more to do than just eat and sip. The NSW government has also set aside an additional $ 20 million for its CBD revitalization program, where NSW Treasurer Dominic Perrottet advised that it will be focused on getting people back to the city, "whether it's working or shopping or getting in" for entertainment and dining. "
"This initiative means venues can apply to convert outdoor parking spaces, and some locations may request more footpaths to attract customers," said NSW finance and small business Damien Tudehope. "It's about greater security and opening up more capacity to venues so they can continue to host guests and serve top-notch food and drink."
To achieve this al fresco goal CBD-wide, government agencies have worked together to reduce bureaucracy so companies can easily reclaim outdoor space. That led to an initial wave of outdoor dining in The Rocks before it spread CBD coverage.
In response to the changes, 90 per cent of the restaurants and cafés participating in the Sydney City program said outdoor dining was beneficial or crucial to their business. Forty percent increased their staff hours by 10 hours or more per week as a result, 45 percent employed at least two more employees per week, and 58 percent have experienced their turnover increase up to ten percent.
The city is committed to eating out on a grand scale, and the city of Sydney is also set to further expand George Street's car-free zone and spread the vehicle-free area across the entire driveway between City Hall and Railway Square.
For more information on the increased funding for the al fresco dining plan, visit the City of Sydney website.
Photos: Jes Lindsay
Published June 1, 2021 by
Sarah Ward