When Erin Clay moved into an apartment, the last thing she wanted to do was contribute to landfill by throwing food waste in the trash.
So Clay, from Potts Point, was quick to participate in City of Sydney's kitchen recycling experiments.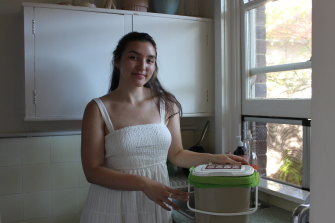 "We've never really had composting solutions for inner city life, so I think it's good when you don't have a backyard and can't do it yourself," she said.
She was aware of the lawsuit when she initially joined while living in a cooperative house.
The city's food waste recycling initiative will be expanded to more than 21,000 households this year, a City of Sydney spokesman said.
The council provides a small kitchenware, a supply of compostable caddy liners and a trash can for residents.
Lord Mayor Clover Moore said: "An average Australian family throws away an astonishing food of $ 3,500 or more each year, equivalent to about a ton of food waste.
"With about 8 percent of our total greenhouse gas emissions from waste, it's crucial that we manage as much waste from landfill as possible."
While other Sydney councils have a combined food and garden organic waste service, Sydney City said this option was not possible given the city's large share of apartment dwellers. In 2021, the council will consider more permanent solutions for food recycling.