Grocery giant Woolworths will compensate salaried employees who were probably underpaid in the early 2010s with a flat $ 2,500 per day. Plus pension because the pay problems happened so long ago that they no longer have timesheets to see how much each employee should get.
Payments to around 20,000 people are expected to total $ 50 million and exceed the six years employers are required to reimburse staff under industrial law, which in Woolworth's case is 2013 to 2019.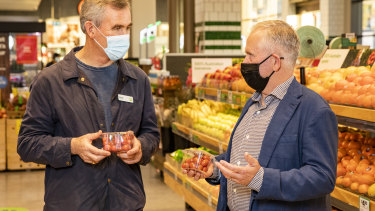 Woolworths has already repaid a record $ 370 million, and the company is facing lawsuits from the Fair Work Ombudsman, which suggests that based on a sample of employees, the true bill could be more than double, even if Woolworths disagrees.
On Friday, Woolworths revealed that it had dealt with an additional threat in the form of a class action lawsuit filed by Canberra company Adero Law on behalf of salaried Woolworths executives in stores that both parties have agreed to settle.
Woolworths covers members of class action costs in an undisclosed amount, and Adero's Superintendent Rory Markham said plaintiffs would have or had been paid 90 percent of what they owed and would receive more if the Fair Work Ombudsman's action succeeds.
Woolworths CEO Brad Banducci said the supermarket chain had been committed to resolving the underpayments since they were unveiled in 2019.
"We have worked through hundreds of millions of records as fast as we can to ensure that past and present team members have been paid what they were entitled to, plus interest and early retirement pay," he said.
The staff who worked in Woolworths supermarkets, metro stores, Dan Murphys, BWS and Big W for at least six months from 1 January 2010 to September 2013 are entitled to the new payment.
The Shop, Distributive and Allied Employees Association, the largest union representing retail staff, welcomed Woolworths' plan.