Note to Roy readers: We had closed the blog a few minutes ago, but this late news came from Sydney. We have added it after our farewell post.
A COVID-19 exposure has occurred in an intensive care unit at Sydney's Royal Prince Alfred Hospital.
A local health district spokesman in Sydney confirmed on Saturday afternoon that a patient receiving treatment in the hospital's designated "non-COVID" unit had returned a positive test.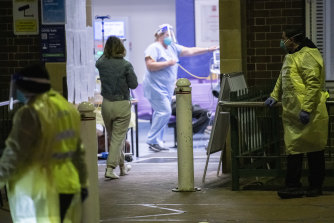 Surveillance tests have not identified any further cases, and NSW Health conducts contact tracking to identify all close and casual contacts.
"Staff who have been identified as high risk have been asked to isolate," the spokesman said.
"The ICU has been thoroughly cleaned and remains open."
Over the past two weeks, large COVID-19 clusters have emerged within Sydney Hospital in Liverpool and Campbelltown.
35 cases, including 30 patients, have tested positive after acquiring the virus in Liverpool, and a further 20 cases, including 16 patients, resulted in Campbelltown after a patient was transferred from Liverpool while contagious.
Two patients at Mount Druitt Hospital's dialysis unit died earlier this month after a patient, now deceased, returned a positive test after receiving treatment.