Will the Prime Minister set up a watchdog that can investigate sports and parking lots? Or the use of a politically blind trust to receive "donations" from anonymous sources? Or someone who could force a minister to answer questions about how the media was tipped off about a secret police operation? In that case, several ministers as well as both the current and former Advocates General would be under a cloud.
Christian Porter – degraded to the hind leg – still refuses to reveal or even try to find out who has given him huge sums. Senator Cash denied an Australian federal police request to be interviewed about how and why her staff tipped friendly media about police raiding the AWU in 2017.
Scott Morrison has tried to argue that the presumption of innocence has disappeared, while he certainly rejects the possibility of guilt
The politicization of police work is in itself a serious matter. Text messages were deleted from her employees' phones – which appears to have manipulated evidence. Not surprisingly, the query was dropped, frustrated by the lack of evidence.
Will any of these examples be within the scope of a new federal NIC? If not, it will be a CRAP – a corruption regulator that avoids politicians.
Over the course of the week, Prime Minister Scott Morrison deftly argued that the decision to step down by former NSW Prime Minister Gladys Berejiklian shows why a national anti-corruption body should not have extensive powers.
Loading
Apparently, PM already knows what the NSW ICAC inquiry finds, and he has pre-judged the evidence, which we have not yet heard, and decided a verdict of innocence for ex-premier Gladys. Along with his media jubilation, he has tried to argue that the presumption of innocence has disappeared, while he certainly rejects the possibility of guilt.
There has also been criticism of the timing of the NSW ICAC survey, which comes amid a public health emergency. Since it is not house style for ICAC to explain what is going on in an organization that, by its very nature, must operate in secret, we can only speculate.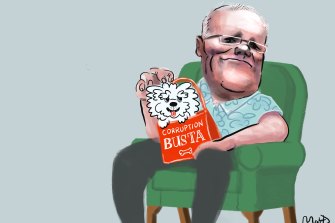 In that case, I would speculate that it might as well be argued that ICAC has postponed the fulfillment of its statutory responsibilities and has already waited many months for the emergency to be eased before resuming a formal investigation into it, it was revealed more than a year ago – that Ms Berejiklian made some very confusing decisions about public spending of millions of dollars to be examined forensic.
Whether those who hasten to acquit the former prime minister are better informed than those who hasten to judge her, we will eventually discover. "The judgment first, the judgment afterwards" should remain in Alice in Wonderland where it belongs.
In South Australia, SAICAC has had its powers and reach reduced this week, and in Victoria, IBAC is exploring the inside of the state's ALP with a timely series of hearings on far-reaching branch establishment requirements first aired in this masthead for almost 18 months. since.
Former Minister and Mediator Adem Somyurek knows enough dirty secrets about what has been done, when and to whom, to guarantee that he can cause security damage if he chooses to do so.
There is also the possibility that the zombie saga of the CFA dispute will be dug up from its shallow grave.
The state opposition claims that the mere suggestion that some actions of Prime Minister Daniel Andrews could be investigated entitles him to "make a Gladys" and resign.
Which is similar to thinking that if you go to the hospital to explore surgery, you're already dead. It is obvious that anti-corruption bodies are investigating governments — that is why they exist. Looking for corruption is not the same as finding corruption.
Our Breaking News Alert will let you know of significant news when it happens. Get it here.
Jon Faine is a regular columnist. He has worked on contract for the state government.