The city of Sydney is poised to become the latest council to support a new campaign led by Craig Foster, who could see symbolic anti-racism messages popping up on street corners in iconic locations around the country.
Councilor Linda Scott will on Monday make a proposal to endorse the #RacismNOTWelcome movement, set up last year by the Inner Western Multicultural Council and led by Foster, the former Socceroos captain, SBS commentator and human rights activist.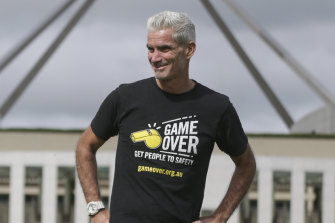 The Inner West Council has already adopted a similar proposal – and over the past month, red street signs with the #RacismNOTWelcome message have been erected around Sydney's inner west – while the Waverley Council jumped on board last week.
Cr Scott, who is also chairman of the Australian Local Government Association, hopes it will become a national trend.
"I'm so proud to stand next to Craig Foster AM and our city's multicultural community to launch the #RacismNOTWelcome campaign," she said.
"I am convinced that local governments across the country, as the closest level of government to our society, will continue the good work we do to ensure that all people feel a sense of belonging and are equal. Together we can stand up, shout racism and create places where decision-making is shared and diversity is valued and celebrated. "
Foster said he agreed to run the campaign last year when stories of racism began popping up in the Addison Road Community Center, where he volunteered, describing the street sign initiative as a public demonstration of how the issue should no longer be hidden or taboo. but visibly recognized.
"These signs are the physical manifestation of the underlying principle that racism exists, that it is real, harmful and deeply damaging to many Australians, and that we all have a responsibility to confront it every day," he said.