The Rose Bay Residents Association says it is against the bike path because of the danger it can pose to pedestrians on the boardwalk.
Its Vice President Bruce Bland said it "was only a matter of time until an elderly resident or a resident led by a dog is seriously injured".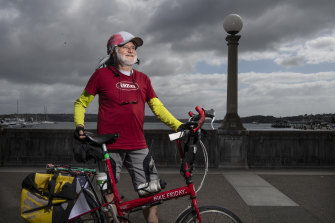 The Double Bay Residents Association is also against the construction of the bike path on the promenade, which it said would reduce the amount of space for pedestrians.
DBRA President Anthony Tregoning said the bike path should be rerouted along the road instead. Other residents have suggested building the bike path on the other side of the road.
"We support the council's commitment to protecting cyclists' safety, but its current plan will endanger pedestrians," Tregoning said. "Is it prepared to compensate pedestrians who are injured in a bicycle accident?"
Sir. Tregoning said other options would minimize the risk to both cyclists and pedestrians. "They may be more expensive and less convenient, but one of these should be adopted," he said.
Adrian Boss, community captain for Cycling Without Age, said the bike path was part of a regional bike route and "not just a local bike path". He said the promenade section would separate walkers from cyclists, and the safety concerns of those who were against the bike path were misled.
"They are snobbish, narrow-minded and largely unaware of relative safety issues and do not see or respect the needs of others that require reasonable and safe access to roads and trails," he said.
A council spokesman said it was not possible to put a bike path on the road. "The current design balances the needs of all road users and provides a safe solution for cyclists and pedestrians".
Cr Marano said developments in Sydney's eastern suburbs were dampened by a small group of residents with a "not in my backyard mentality".
Loading
He said a short construction period where pedestrians had to walk along the other side of the road was a "small price to pay for the sake of the whole community".
The controversy over the Rose Bay cycle path follows a decision by Sydney City last week to drop plans for a cycle path in the middle of Oxford Street.
The design of a new cycle ramp at the north end of the Sydney Harbor Bridge has also attracted controversy.
The Morning Edition newsletter is our guide to today's most important and interesting stories, analyzes and insights. sign up here.