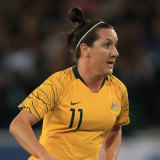 "And of course there's a word for it … but it's now part of a culture war, as if you use that word, it almost shoots the first shot in a culture war, and you get a lot of words back if you do, think I.
"We need to be able to have adult, sensible conversations about these issues without resorting to these old stereotypes about predatory lesbians or women's sports as a kind of nascent pot of immorality that makes people bad [or] gay … these are very retrospective stereotypes that should have no place in modern sports reporting. "
Dodd's remarks were reiterated earlier Thursday by Women Onside, an advocacy body for women in football.
Chairman Maria Berry also praised the FA and SIA's independent complaint process, but said there was "underlying subtext in some comments bordering on homophobic".
"Women on the ground recognize that these are complex issues that need multifaceted solutions," Berry said. "These solutions will be achieved through respectful and nuanced discussion. We encourage all stakeholders to engage constructively and sensitively on these issues. "
Mrs Vanna has not yet indicated whether she intends to lodge a formal complaint with the SIA, and questions from Herald to people close to her has not elicited an answer.
That Herald has spoken to several players who did not want to be identified in public, who have been part of Matilda's set-up for the past 15 years and were shocked to hear about the allegations that De Vanna raised. Privately, no one had experienced or witnessed the behavior the former attacker alleged and was unaware of any kind of harassment or bullying De Vanna experienced in 2001 while with the young matildas.
One of De Vanna's former teammates, Joey Peters, denied that the national team or the sport had major cultural problems, but warned that all professional sports had a problem when it came to putting young women in high-performing environments in "pressure cookers".
Peters, who played 110 times for Matildas and retired in 2009, said she preferred to celebrate De Vanna's glittering career, having recently reached out to her and Football Australia over the prospect of a farewell match.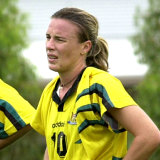 "In terms of what the players are trying to do, from a historical perspective, no," Peters said when asked if Matildas had a cultural problem.
"I'm talking about the next level – of course there is a problem because it is driven from above. These girls and athletes are expected to be top role models, give 120 percent for the game and the jersey and do not have a personal life.
"With women's sports, they get the girls in earlier, and that's the problem – age. We need to look out of the way now and say what's best for a youngster who is 15 or 16 making his debut for Matildas? What does she have to do with?
"It's a pressure cooker, a little bubble you put in, and you are expected to give your whole life to a particular sport from the time you were a child. I am a big proponent of the fact that youth and children's development is separate from the adult game. You need to be mature enough to not only go through the rigors of what it's about physically, but also mentally, emotionally. There's a bigger problem for me – can we talk about sports having a holistic approach that puts the person first? "