Suddenly – also in the middle of a personal Botox crisis and the pressure to be the only one alive who can not see the clever allegories in Octopus game – the world feels a little bit right again.
Kylie Minogue has confirmed to the BBC that she is saying ta-ta guv'na to London and moving back to Melbourne after 30 years! Yes. "I spent a lot of time with my family this year in Australia and it felt really good," she said.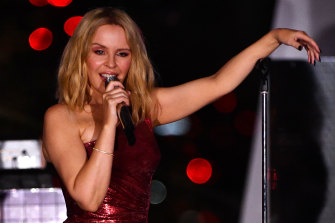 Glitter cannons, start exploding along the east coast now.
In cultural terms, Kylie is our Elgin Marbles. She settled down and looked good for a long time in the UK, but always really belonged here. Forget hanging out with Jamiroquai and Christmas shows at the Royal Albert Hall. The woman was born to be ready to put a buck on Camberwell Market at any minute, walk to Gate 2 at the 'G' or look up at the food court in Chadstone.
Even when she adopted the strange hybrid accent, she always, always a total supporter of Australia, remained jaunty tourism ads included. Even during the pandemic, when other stars who no longer live here (you, Rebel Wilson) saw it as their business to criticize our lockdown policies on a world stage while the tastefully flanked Mediterranean yacht vacations.
Now, with our international reputation weakened by submarine brouhahas, spinelessness of climate change and border restrictions, the decision of a star with money to live absolutely anywhere to run against us says a lot.
It is PR that our country cannot buy. It says loud and clear that our troubled, frustrating, incredible island is still the best place on the planet to live, and hey folks, I'll be there with you for the grand reopening.
The exciting bit becomes what Kylie does with her life when she unpacks her warm pants in Melbourne. At a timeless 53 and over rich, is she slowly winding down her big career or is she still planning to record and tour from an antipodic base?