The financing is divided into two packages.
Individual workers and micro-enterprises can apply for one-off grants to develop new work, undertake professional development or reach new target groups.
Grants of up to $ 5000 will be available to individuals, including exclusive distributors and freelancers. Collective, micro-organizations and companies will be able to apply for grants of up to $ 10,000.
An additional $ 10 million will be available to larger organizations of state importance. These will include festivals, performing arts companies and others.
The executives from MTC, Circus Oz and MSO all thanked Mr Pearson for listening to the need to let them have rehearsal bubbles so they can be ready when the reopening begins, with most productions having at least four to six weeks to prepare sig.
Depending on where performances fit within the government's recovery map, Lovett hopes As you like it may begin its run in November, while MSO expects its fully vaccinated orchestra to resume playing together on Wednesday morning, hoping to perform as soon as they are allowed to open and soon resume tours to regional Victoria.
With 120 artists, Circus Oz will only resume its major events before January, as artists need time to regain their maximum physical fitness as well as prepare for new shows, but it will have some smaller offerings, e.g. Its "sneak peak" program that allows people to come and see works in development.
"You do not just have to watch the finished production to have that commitment with the artists, there is something quite exciting about the nearby misses and the excitement of rehearsals that I am sure will pump these artists with even more excitement to come back on the stage, "Miles said.
MSO CEO Sophie Galaise said her full-time musicians and conductor Benjamin Northey planned to play together at the Arts Center on Wednesday.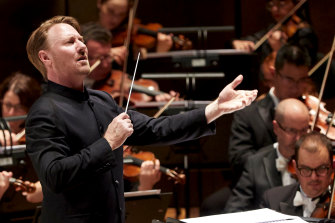 "We are different from the theater where they need to build decor and bring everything together, we want to bring the musicians on stage and start so we just need a few days to rearrange the schedule and the timing as it is quite accurate , "Galaise said.
"It's very different than being at home and practicing your violin in your living room."
Saturday's announcement came after some of Melbourne's major performing arts companies warned that they may not be able to reopen as expected by the state government's roadmap because they could not rehearse or build sets in advance.
Mr Pearson said the move followed consultations between government ministries and industry.
"We have now been able to determine the capacity of our national performing arts companies to access that rehearsal bubble," he said.
"This is a really important step, because in order to perform your art, create, perform when restrictions open up, you need to make sure that your artists have had the capacity to try and practice.
"This is something that has happened recently through the revised directions, and it will be a really important first step in enabling artists to get out of it quickly and be able to respond and return to it," they do the best. "
Mr Pearson said the changes would apply to major groups such as the Melbourne Theater Company and the Australian Ballet.
"It's about letting them get back to doing what they do best," he said.
Loading
Mr Pearson said the government knew groups needed support to prepare for resumption of performances.
"There will be money going directly to some of the creative organizations, so it could be the Abbotsford Abbey, for example, it could be the Bakehouse, it could be the Footscray Community Arts Center," Pearson said.
"The creative sector is a rich and diverse sector, it is a huge ecosystem of talents on your doorstep. This is a really focused, focused approach to people who e.g. May not have been able to apply e.g. About business support because they are not a business, they may not have received support because they are not a place.
"It's about the fact that performers on the coal surface can be involved in access and support to keep them going at a really challenging time."
More information will be available at creative.vic.gov.au/grants-and-support.
The Morning Edition newsletter is our guide to today's most important and interesting stories, analyzes and insights. sign up here.