The discovery of chronic traumatic encephalopathy (CTE) in former Collingwood champion Murray Weideman, who died in February at the age of 85, should encourage contact sport administrators to consider changing rules for junior sports, according to neurologist and concussion expert Dr. Alan Pearce.
Aging confirmed that the Australian Sports Brain Bank diagnosed stage 2 CTE and intermediate Alzheimer's when associate professor Michael Buckland examined Weideman's brain posthumously.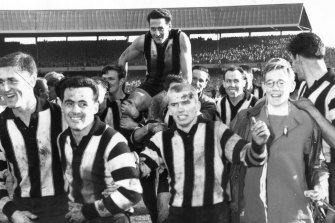 He is the fourth former AFL player along with Graham 'Polly' Farmer, Danny Frawley and Shane Tuck to be found with the presence of CTE in their brains after they died with the disorder associated with mood swings and depression.
"We need more independent research to keep understanding this disease," Pearce said.
Pearce, who works for the Victorian branch of the Australian Sports Brain Bank, said the results suggest that sport had a responsibility to take care of those suffering from head-to-head injuries. He said sporting bodies should also address the issue at the junior level.
"One thing we do know about CTE is that it's an exposure disease, so we may have to ask the tough questions about changing sports for juniors before we take it to full contact for middle-to-late teens. , "said Pearce.
The AFL has appointed Associate Professor Catherine Willmott as Head of Concussion Innovation and Research and Rachel Elliott as Head of Concussion and Health Management, while making elite-level rule adjustments. They also introduced a 12-day concussion protocol, which forces players to sit on the sidelines for at least 12 days if they suffer a concussion.
Pearce is an advocate for players being forced to take a 30-day break if they have a concussion instead of saying that research based on symptoms was an inadequate assessment with physiological and biologically based research showing that a A 30-day break was needed.
Loading