O'Brien declined to be interviewed Saturday, referring all questions to Senator Colbeck.
Senator Colbeck declined to comment on Mr O'Brien's remarks.
He said the Commonwealth "had already provided feedback on the Queensland Olympics bill", which had been shared with them by the state government, in a statement.
"The Commonwealth has provided comprehensive feedback on the draft law on the Organizing Committee of the Olympic Games (OCOG), which is being shared by the Queensland government as part of its consultation process," a spokesman said Saturday.
"We understand that other gaming partners, including the IOC, AOC and Brisbane City Council, have also made a number of comments."
"We are working closely with the Queensland Government and other gaming partners to ensure that these issues are resolved before the bill can be finalized.
"The OCOG bill is a critical basis for the Games that we need to address. We are committed to continuing the collaborative approach that was so crucial to the success of the Brisbane Games candidacy."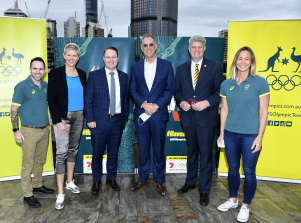 The Queensland government also confirmed that it had shared the draft Olympic bill with Senator Colbeck.
"The bill has been circulated with our partners, including Federal Sports Minister Senator Richard Colbeck, who traveled with Premier and Lords to Tokyo for the crucial final representation of the International Olympic Committee," a spokesman said.
A frustrated Lord Mayor of Brisbane, Adrian Schrinner – asked to comment for the second time this week on funding issues between Queensland and the Australian governments – asked both governments to have the "bigger picture in mind".
"I am convinced that the cracks in the draft law for the organizing body of the game can be eradicated to the satisfaction of all parties," Cr Schrinner said.
"I urge everyone to continue the discussions and keep an eye on the right prize – to take advantage of the Olympics – to build an even better Brisbane and a better Queensland."
Prime Minister Annastacia Palaszczuk said 10 days ago that the bill – which sets out the work of the organizing committee of the Brisbane Olympic Games – would go to the Queensland parliament later this month.
Last week, Mrs Palaszczuk appointed herself Minister of the Olympics, adding Deputy Prime Minister and Minister of State Development Steven Miles as Queensland's new Minister of Olympic Infrastructure and Stirling Hinchliffe as Minister of Assistance at the Olympics and Paralympic Sports and Commitment.