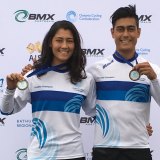 "I didn't have memory or functional problems that people sometimes have, like speech and stuff like that," she said.
"It was just more, 'Am I getting well again?' Every single day I do everything I have been told – which is not much rest. It does not improve. And it is also this mental challenge like: am I making these symptoms in my head? Am I trying to feel something, am I kind of biased? It was really hard.
"It was scary. And I was worried that there was actually something really wrong with my injury that I did not know. It was really about to put me down. "
That meant she had to give up her plans to compete at the UCI BMX World Championships in the Netherlands in August. Recently, Sakakibara has been improving, and she was hoping to be at the World Cup event in Turkey this month – but then a rare seat on a plane back to Australia became available. Once she has been allowed to leave her hotel room, she will seek further advice and treatment on her concussion from specialists to ensure she is fully recovered next year when the Paris 2024 Olympic qualifiers begin midway.
But it's just the physical toll of the accident. The emotional toll was also heavy – especially for a family who are unfortunately very aware of the uncertain nature of brain damage.
"I just thought, I crashed and I got up, and that's fine," she said. "But then I realized how much everyone was waiting for me to come forward and be ok, especially with what happened to Kai.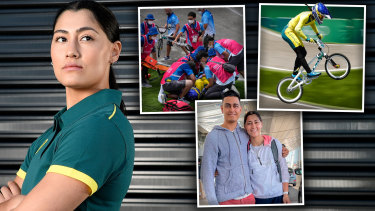 "I just can not imagine what my mother and father went through. I did an interview with Sunrise the next day and they kept playing my crash while I was talking and it showed my mom, grandma and Kai's reaction to the crash. The fear on their faces was so … I was like, 'Oh my god, I'm so sorry I put you through this'. "
On a personal level, more than anything else, Sakakibara is just annoyed – both that her Olympics ended the way they did and that she has not been able to do anything about it. She may finally get a chance in December with the Australian titles if she is fully recovered – at which point she has hopefully also come to terms with what happened in Tokyo, which has been its own battle.
"The first few weeks when I read some social media posts, Twitter, stuff like that, there were a lot of messages saying you were deprived of a medal, 'you did so well', 'it was not your fault' type of thing – which are all really, really nice, "she said.
Loading
"But it made me feel out of control over what happened. It was almost easier for me to think 'well, I should have been faster. If I was faster, the American girl would not have caught me and had the chance to take me out '. It was easier for me to put the blame on myself. I did not like being a victim. When I turned it off, it helped a lot.
"It's definitely just disappointing, I think. I looked at all the pictures from Getty Images, and at all the pictures I'm in front – so I felt really, really good. That's just what it is.
"I am sure that in time I will find a good perspective from it and have a huge learning experience. That will probably be one of the best things that has happened to me. "