Rome: Left-wing Italian lawmakers and politicians on Sunday called for measures to ban fascist groups a day after anti-vaccine protesters, incited by far-right leaders, stormed a trade union office in Rome.
Twelve protesters were either detained or arrested, authorities said Sunday, including Giuliano Castellino, leader of the far-right Forza Nuova party. Around 10,000 protesters turned out on Saturday to express their outrage at a demand from the government that employees must have a "green passport" to enter their workplaces from next Friday.
The passports confirm that a person has received at least one dose of a COVID-19 vaccine, has recently recovered from the virus or tested negative within two days.
Scream of "Giuliano! Giuliano! "Rose from the crowd on Saturday. Castellino, who has been banned from demonstrations in Rome due to past violence, was reportedly one of the Forza Nuova members urging supporters to storm the national headquarters of the CGIL Workers' Union. Trade unions in Italy have supported Green Passes to make jobs safer for employees.
Lots of protesters used sticks, metal rods and rolled up Italian flags to slam the door and then smashed through a window to enter. Inside, computers and telephones were knocked to the ground and furniture was knocked over.
Later, hundreds of protesters clashed with police as they tried to reach the square outside the Chigi Palace, home of the Prime Minister's Office and near the Italian parliament.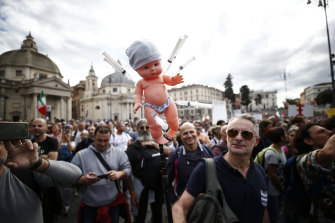 After the storm of the union's headquarters, protesters had then headed down Rome's Via Veneto, a boulevard that winds past the US Embassy. As a security measure, Italian security officials decided to lead Nancy Pelosi, the U.S. president of the House, out of a nearby church where she had attended the mass, her office said Sunday.
Earlier Saturday, Pelosi had a private audience in the Vatican with Pope Francis.