Belgian goalkeeper Thibaut Courtois has hit the football authorities, claiming that "no one cares" about the players in a cutting assessment of the congested calendar.
After speaking out after Belgium's 2-1 loss to Italy in the UEFA Nations League final in third place, Courtois' comments doubled earlier this week, calling the game "pointless".
Courtois claimed several changes in the course of the game, including the withdrawal of Eden Hazard and Romelu Lukaku, spoke volumes about his argument.
Isak net wonders strike for Sweden | 00:33
"This game is just a money game and we have to be honest about it," Courtois said Sky Sports.
"We only play it because it is extra money for UEFA. See how much both teams changed. If both teams had been in the final, there would have been other players in the playoffs.
"This just shows that we play too many matches. The [UEFA] made an extra trophy [UEFA Conference League].
"They may be angry that other teams want a Superliga, but they do not care about the players, they just worry about their pockets.
"It's a bad thing that there is no talk of players. And now you hear about a European Championship and a World Cup every year, when do we get rest? Never."
A two-year World Cup has been aired as a controversial aspect of a revised international calendar in which FIFA claims its plans will protect the player's welfare.
However, the World Players' Union FIFPRO claimed that such plans would not work without the support of male and female players.
Fire breaks out before England fixture | 01:28
Courtois believes, however, that the players do not get a strong enough voice in the discussion.
"Ultimately, top players get hurt and injured and injured," he added.
"It's something that should be much better and much more taken care of.
"We are not robots. It's just more and more games and less rest for us, and no one cares about us.
"Next year we have a World Cup in November, we have to play until the last stages of June again. We're going to get hurt. No one cares anymore about the players.
"Three weeks' holiday is not enough for the players to continue for 12 months at the highest level. If we never say anything [will be] always the same. "
Klaassen wins for Holland | 01:01
ITALY UNDERMANN BELGIUM
Italy took third place in the Nations League after beating Belgium 2-1 to jump back from their world record undefeated race was brought to an end.
A superb volley from Nicolo Barella just after the break and Domenico Berardi's penalty kick in the 63rd minute was enough for Azzurri to see a Belgian team miss the injured Lukaku and Hazard to win the playoffs in third place.
The European champions, who were beaten by Spain in their semi-final on Wednesday to lose after losing 37 games without a defeat, played with verve on a beautiful sunny day at Turin's Allianz Stadium, but Belgium's bad luck continued after their last gasp in the semi-final loss to France.
Alexis Saelemaekers, who started in place of substitute Kevin De Bruyne, Michy Batshuayi and Yannick Carrasco, all hit the woodwork before Charles De Ketelaere scored with four minutes left.
It was a good day for the usually speedy Roberto Mancini.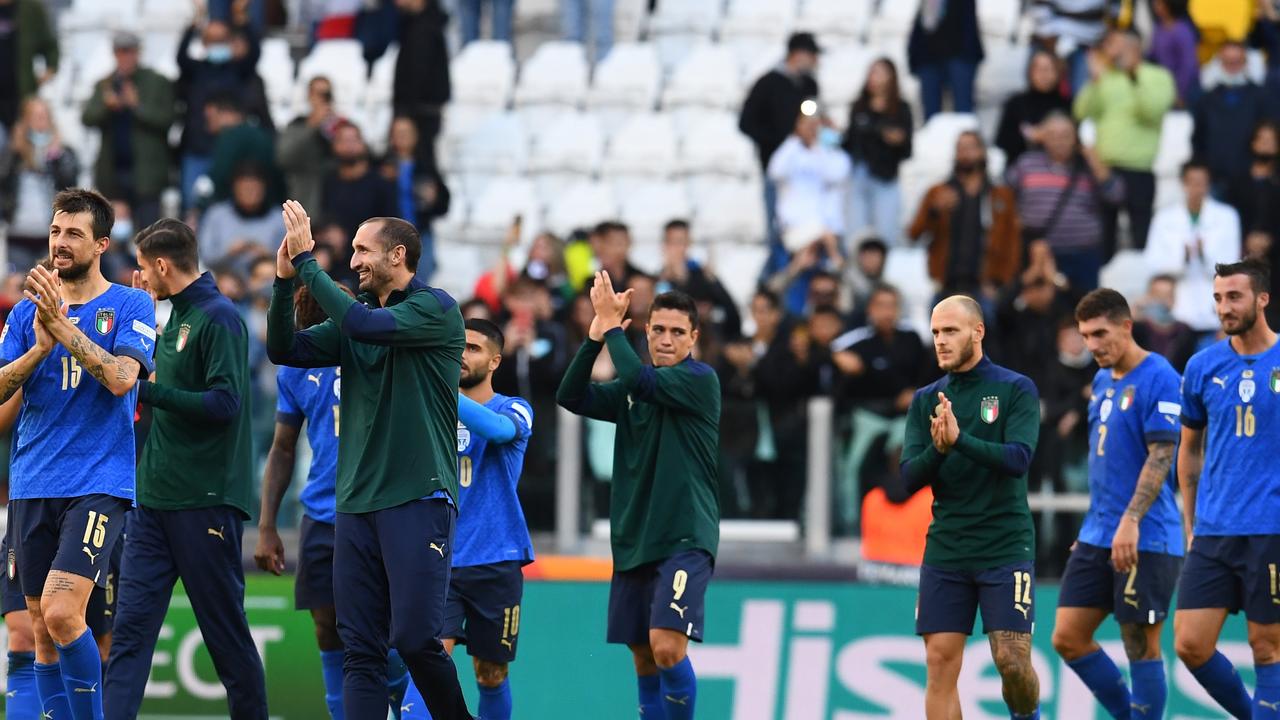 "We played very well today … Chiesa can play anywhere, right or left, today he played on the left and he did really well. He is an important player, "Mancini told RAI.
Courtois may have called the match "pointless", but the two teams put a lot of commitment into their displays, with some players wanting to find a place in their national team.
Giacomo Raspadori, who made his sixth appearance in Italy, was beaten by the impressive Chiesa in the 20th minute, but could not get his shot away until Timothy Castagne came over to divert his effort to the corner.
Five minutes later, AC Milan midfielder Saelemaekers hit the bar with a first curling shot that left Gianluigi Donnarumma, the captain of the day, cheering heartily from the Torino crowd after being barricaded by angry AC Milan fans on Wednesday, anchored on the spot.
.