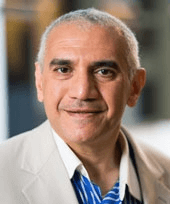 October 10, 2021
TORONTO – A law professor at the University of Toronto says he is "deeply saddened" after posting a Jewish judge along with a notorious Nazi lawyer on his Twitter account for several months.
As revealed by B'nai Brith Canada on Thursday, Mohammad Fadel's Twitter profile picture had depicted Judge David Spiro, a Jewish member of Canada's tax court. At the bottom of Spiro's photo, Fadel wrote the words, "The Sovereign is the one who determines the exceptions," a quote from Carl Schmitt, a virulent anti-Semitic lawyer who joined the Nazi party and facilitated its takeover of Germany. Below the picture, Fadel wrote, "Schmitt lives in Toronto."
In a blog post published Saturday, Fadel noted complaints he had received from Jewish lawyers following B'nai Brith's release, saying, "I am deeply sorry for the pain I inadvertently caused them." Fadel went on to argue that he did not intend to compare Spiro with Schmitt, but rather only to criticize Spiro for allegedly acting on Schmitt's ideal of a sovereign. He also claimed that the slogan "Schmitt lives in Toronto" was aimed at the University of Toronto, not Spiro himself. Despite admitting to having these messages on his Twitter profile since April, Fadel had never publicly offered this "explanation" before.
Around the same time as the blog post was published, Fadel also removed the content linking Spiro and Schmitt from his Twitter profile.
"Professor Fadel's apology and removal of the offensive material is an important first step, and we hope it is sincere," said Michael Mostyn, CEO of B'nai Brith Canada. "The fact is that as a result of the Azarova controversy, Jewish members of the University of Toronto community have been exposed to several incidents of anti-Semitism and this needs to be stopped.
"The university's lack of tackling or even commenting on this issue, despite it being brought to its attention months ago, is deeply worrying."
In June, the president of the University of Toronto Faculty Association (UTFA) called on an anti-Semitic trope by claiming that a "legitimate powerful Zionist minority" was engaged in "psychological warfare" against critics of the Cromwell report, which partially investigated Justice Spiro's behavior in Azarova. -the case. Despite a significant public outcry, the university failed to push back or defend its Jewish professors.
In December 2020, the university announced with great fanfare the creation of an anti-Semitism working group. Almost a year later, the working group has nothing to show for its efforts, except for an "interim report" with three sections from March 2021, which does not make any recommendations to the university.