Of course, children can also transmit COVID to others in their household who may be much more vulnerable than they are. It is important to keep infections down at school, including simply keeping schools open.
I recently returned to Australia after living in San Francisco, where masks are mandatory in schools for children ages two and up. The American Academy of Pediatrics recommends masks to all school children. At first, many San Francisco parents I spoke to were worried that this would not be possible. But already after just a few months, it has become completely normal.
The results have been amazing: In San Francisco schools, there have been only seven cases of transfer this year. Compare that to England, where 270,000 schoolchildren were infected last week. Of those, about 1 percent may be hospitalized, the far more evolving long COVID that makes daily life difficult to cope with. Over 10,000 English children have had symptoms for over a year. Of course, it's not just about masks, but they are a critical part of the recipe for success.
In response to the announcement about the masks, we have heard the same discredited criticism that was made a year ago – criticism that has been debunked many times. Masks are just as effective for children as adults. Masks do not make it difficult for children to breathe. Kids can really wear masks – 90 percent compliance was measured in North Carolina.
For children with specific needs or disabilities that prevent wearing masks, this is not required. It's about taking a child – centered and common sense approach.
In Australia, we have experience with new clothing requirements: "No hat, no play". We know that children can cope with change. We have seen how children are often more flexible than their parents. They learn to wear shoes and socks, eat vegetables and use the toilet. Masks are no different.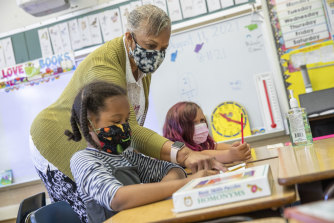 As with all rules in school, there will be some children who do not comply. It's OK – learning to follow rules is part of school life.
Vaccinating parents and teachers alone is not enough. Vaccination reduces transmission by about 50-70 percent, with efficacy improving soon after immunization, but decreasing over the following months.
Vaccinations will soon be available to children under 12 years of age. Why would we not do what we can to keep them safe until they can be vaccinated?
Loading
Epidemiologists know that in an unprotected, unvaccinated population, e.g. Elementary school teachers, almost all will be infected in the end. 75 percent of school children can be infected in three months if there are no vaccines and masks. It would be a tragedy if we unnecessarily let that happen in Australia when the availability of vaccines is just around the corner early next year.
Even with high vaccination coverage, and even more so before then, there is no "fix-all" for COVID-19, multiple controls need to be used in parallel.
As the UK shows us, COVID will burn like wildfire through this year at school without strong control measures.
And the simplest and most effective control is a mask.
Jeremy Howard is a prominent researcher at the University of San Francisco and a member of OzSAGE.