For Dominic Perrottet, NSW's awakening from its dormancy was about blocks and beer.
For two days in a row, the newly-elected premier chose a pub as a backdrop to talk about the state's long-awaited emergence from its 100-plus-day lockdown.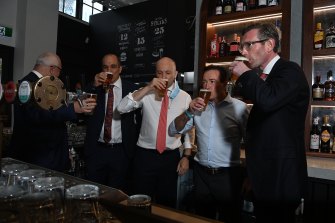 On Sunday, it was a mate's pub owned by English Federal Liberal MP Craig Laundy. Hawkesbury MP Robyn Preston stood in silence in the background as Perrottet, Health Minister Brad Hazzard, digital minister Victor Dominello and Laundy spoke (and joked).
Then on Monday, NSW's big day, Perrottet returned to a pub where he and his male actors stood around devastating beers to the cameras (by the way, Premier, your health orders say you should sit indoors when you drink). This time, they did not even bother with a symbolic woman.
Maybe Perrottet tried to seem relaxed when he threw nicknames (Tooley, referring to Deputy Prime Minister Paul Toole), and joked that economics was Matt Kean's problem, now Perrottet was no longer treasurer.
Loading
The Perrottet is very different from Gladys Berejiklian, which he could use to his advantage. However, the media conference felt like a reunion of older former young liberals who did not realize that the absence of women on such an important day was tone deaf.
One of Perrotte's biggest challenges with Berejiklian's departure is to win female voters and hold on to those who supported the coalition in the last election because of Berejiklian. Appealing to white middle-aged men will not give the coalition an electoral advantage.
I am by no means a wowser. I'm just as much looking forward to a beer in a pub as the next person. But I also die after visiting my parents, making friends for dinner and taking my kids to the cinema. Monday's reopening gave Perrottet a wealth of media opportunities.