Researchers have suffered pay cuts, longer working hours and a sharp drop in morale as they treated the coronavirus pandemic with warnings that experienced GPs could leave the sector altogether.
The annual survey of professional researchers published on Monday shows that nearly two-thirds reported a drop in morale over the past year, while more than 70 percent suffered fatigue, as well as the sector was urged to find solutions to the biggest pandemic for a century.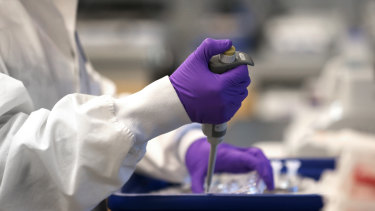 The study, based on the response of nearly 1,300 researchers working in areas from construction to defense, showed that COVID-19 had led to an increase in requirements.
Average hours across the study group rose to 44.6 per week, while overtime increased by more than 22 percent from the previous study. Nearly 59 percent said they received no extra pay for overtime.
Loading
About 40 percent of respondents said they had not had a pay rise in the past 12 months, compared with less than 28 percent in the previous year's survey. Seven percent reported having taken a pay cut due to the pandemic.
Nearly half of researchers said their total remuneration was now in line with market interest rates, while 43 percent said their salary did not reflect their responsibilities.
Science and Technology Australia CEO Misha Schubert said an increase in scientific investment was needed to avoid the loss of people from the sector.
"There is a huge risk that many more of our brilliant scientists will hit the breaking point and just walk away if we do not solve this broken system of precarious work," she said.