Hong Kong: Even a single death from COVID-19 would be a major cause for concern, says City State Executive Director Carrie Lam, emphasizing the extremely strict "COVID Zero" approach that has frustrated global businesses.
In an interview with Bloomberg Television on Monday, Lam said she was "committed to protecting my people" with travel restrictions, although other financial centers like Singapore are opening up and moving on to a strategy of living with the virus.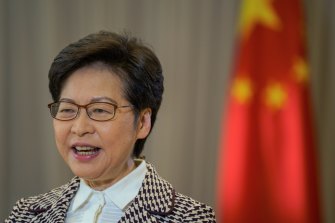 "Of course I am concerned and we are working very hard to resume normal travel gradually and orderly, both with mainland China and with overseas locations," Lam said, adding that most companies were in Hong Kong to access mainland .
"As CEO of Hong Kong, I am also committed to protecting my people. So any death or increase in deaths will cause a great deal of concern in the community. "
The city has registered about 30 deaths from COVID-19 this year, with the last death on September 13th.
The Lamb government has implemented a strict "COVID Zero" policy to reopen the border with China. This approach, which does not tolerate any local infections, has increasingly strained the city's long-standing reputation as a regional hub and an economic and financial gateway to China.
Loading
Mainland officials want Hong Kong to follow closely their own strict approach to eradicating the virus locally to prevent the city from becoming a "weak link" to COVID-19 infections, she said.
"From the mainland perspective, the practices adopted in Hong Kong should be as aligned as possible with mainland practices, but they have also accepted that we operate under a very different regime," she said. "The discussions between the two sides are intended to find a way forward, that with respect for the differences in the systems between the two places, there can be assurance that we will not be a kind of weak link in relation to COVID-19 control. "