Australia was told last year that it was nothing more than "chewing gum stuck to the bottom of China's shoes" and that "sometimes you have to find a rock to rub it off".
In light of this charming overture from the propagandist Hu Xijin, editor of the Chinese Communist Party Global Times, Australia is beginning to discover that, after all, it is not completely worthless or powerless in its dealings with Beijing. Six developments in recent days and weeks illustrate the point.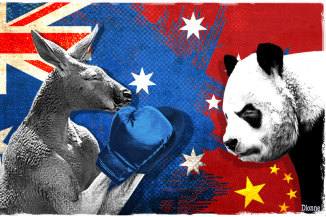 Beijing had banned more than $ 20 billion in Australian exports to China and then released its list of 14 demands for Australian sovereignty. We were left to suffer and reflect on our sins. From the beginning, Xi Jinping's regime was careful to choose the trade that was to be banned. It did not ban the largest trade of all, Australian iron ore, essential for steelmaking. But Beijing calculated it could live without Australian coal, beef, barley, wine, seafood and more.
That was wrong. In recent days, we have discovered that China has quietly disregarded its ban on Australian coal. Bulk carriers that had docked at China's ports a year ago were now called in to unload their cargo. London Financial Times last week reported that around 400,000 to 500,000 tonnes of Australian shipments had been unloaded in the previous month.
It's small beer. But the point is that China's electricity crisis is so painful that it has been forced to partially lift the boycott to keep the lights on and the factories running. Australia did not give in to any of Xi's demands; The majority of Australian export trade was instead redirected to other markets, particularly India, instead.
Loading
Australia coped pretty well with China's ban, but China did not. This is the first development. Among all the Australian industries boycotted by Beijing, the total value of lost sales to China was $ 5.4 billion in the year to June 30, while those exporters in Australia gained new sales of $ 4.4 billion on other markets, says treasurer Josh Frydenberg. "Despite China's extensive actions, our economy has continued to perform very strongly." And in general, total Australian exports of goods to China have hit record highs, mainly due to an increase in the value of iron ore.
The second development came last month when Xi asked for permission to join a large trading group in Asia and the Pacific with a collective GDP of about $ 11 trillion US $. The 11th nation's comprehensive and progressive Trans-Pacific Partnership Agreement, or CPTPP, has been described as a "21st Century" Agreement because it contains high standards of labor and the environment.
Its members include Japan, Canada, Vietnam, Malaysia, New Zealand and Singapore. Also Australia. As a consensus-based organization, each member must agree to admit any newcomer. The Chinese Embassy in Canberra lobbied the Australian Parliament in a speech promising "China's accession to the CPTPP would bring major economic benefits". Trade Minister Dan Tehan said Canberra could not agree as long as Beijing had trade sanctions against Australia. And neither Japan nor Canada are enthusiastic about the prospect of Beijing joining.