A state-of-the-art global technology center arrives in Canada's capital, Ottawa, and it aims to support growth on a global scale by bringing together industry, academia and financiers for the benefit of both startups and businesses.
On Thursday, the Kanata North Business Association (KNBA), the economic development arm for Canada's largest technology park of the same name, announced the launch of Hub350, a community center for the tech park that will serve as a channel for community members to connect with research, industrial and financial resources from Canada and around the world.
"This will be a gateway to growth, to funding, to talent, to success." – Jaime Petten
"This will be a gateway to growth, to funding, to talent, to success," said Jaime Petten, President and CEO, KNBA. "The Hub350 space will be the true intersection of nature and technology – a trendy, natural atmosphere for attracting world-class talent and business, while Kanata North is portrayed as Canada's destination for living, working, playing and learning." The center plans to open its doors in the summer of 2021.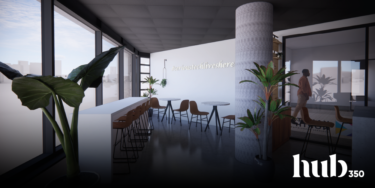 Similar initiatives can be found in other major Canadian cities, including the MaRS Discovery District in Toronto.
A 'town hall' for the hundreds of tech companies in Kanata North
Hub350 is located in the heart of Kanata North Technology Park, Canada's largest technology park, about 20 minutes from downtown Ottawa. The park is home to 543 member companies, including some of the country's telecommunications talwarts such as Mitel and BlackBerry, international conglomerates such as Cisco, Ericsson and Ford Motor Company and a host of promising startups. It is also home to L-SPARK, the country's largest SaaS accelerator.
The new hub will serve as a hub and connect different parts of the innovation ecosystem in Kanata North and beyond.
"With support from Hub350, teams like ours will be able to establish more meetings with subsequent institutions, business partners and investors in the future. Having these resources available in one collaborative and dynamic local work area in the heart of the technology park will be invaluable, says Tracy King, VP Marketing at Martello Technologies. "It's great to see that in many ways we now have a town hall for the hundreds of tech companies located in Kanata."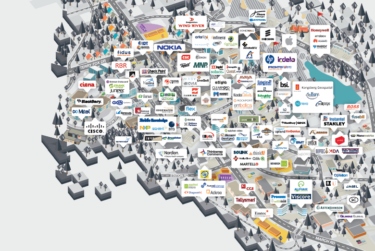 The new hub is a complement to KNBA's and the City of Ottawa's Long Term Planning, the long-term mission of economic development to have the park designated as a special economic district. The area where it is located, the campus of the telecom giant Mitel, will appear as an innovation district with mixed use, where ecosystem partners collaborate in this common space.
The hub has already received commitments from nearby Carleton University to establish Kanata North satellite campuses directly in the technology park. Their campuses now offer talent, research and education directly to Kanata North member companies to accelerate everything from R&D to growth.
Canada's push to attract technological talent
The Hub350 is likely to serve as another tool in the arsenal of regional business development executives to attract technological talent to the area – once hailed as the Silicon Valley of Canada.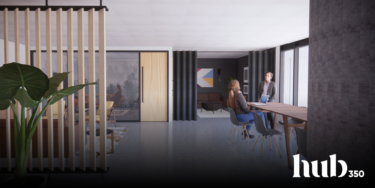 According to KNBA, the hub will also be home to Discover Technata – Canada's largest aggregated tech job board. In an effort to rebuild the economy after COVID-19, the job board is seeking to attract job seekers from around the world to Kanata North. It has been reported that over 10,000 vacancies are currently being advertised on the Discover Technata Job Board, and 500 roles are available locally at member companies in Kanata North Technology Park.
For the past six months or so, Canada has increasingly been characterized as an alternative to Silicon Valley, prompted by government initiatives to encourage and support technological research and development, as well as to encourage investment in startups, among other initiatives. The nation has sought to fill a shortage of technological talent as a whole, especially inviting technicians whose U.S. visas were canceled during President Donald Trump's term.
Disclaimer: This article discusses a client from an Espacio portfolio company.