The lawsuit against a West Australian police officer charged with murder has been heard from the youngest officer on the scene who pulled his taser instead of his gun.
WARNING: Aboriginal and Torres Strait Islander readers are advised that this article contains a picture of a person who has died.
Key points:
A police officer is on trial for the murder of Yamatji woman JC
She was shot by the officer in a street confrontation
Two officers were also on site in 2019 today with evidence
The officer, whose identity has been suppressed by the court, was charged in February after he fatally shot a woman armed with a 30-centimeter knife in a Geraldton suburb.
The Yamatji woman, who for cultural reasons is referred to as JC, died on September 17, 2019, after a public member called the police.
The court heard four police cars take part in the incident, in which three officers left their vehicles and confronted JC on the road.
Now as a senior constable, Dillon McLean was the most junior officer on stage that day with the rank of constable.
He told the Perth Supreme Court today that he drew his taser as he got out of his vehicle but at first did not arm it while running towards JC.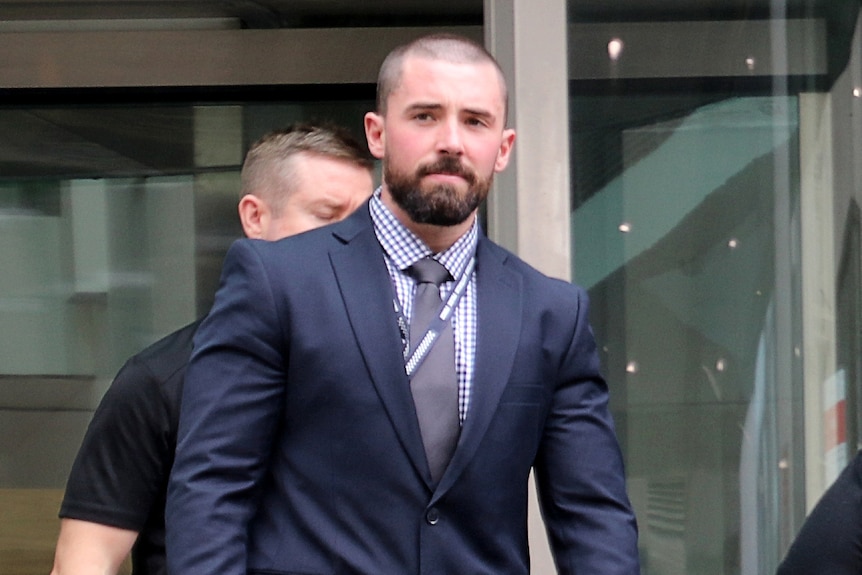 The court heard the accused officer drew his gun while another officer, Senior Constable Barker, was empty-handed.
Senior Constable McLean said he only armed his taser when he saw JC move after the knife.
"I remember the arm moving … and I clearly remember the knife moving from her side," he told the court.
"I lifted my taser up to chest height and I started arming it as she started moving the knife.
"I was in the process of arming my taser when the shot was fired."
He told the court he was about a meter from the accused officer and about four to five meters from JC when the shooting took place.
The court heard that JC was initially handcuffed after being shot in the stomach, but these were subsequently removed and she was placed in the recovery position.
On-site officers provided first aid.
She was rushed to the hospital but died of internal bleeding.
During cross-examination by defense attorney Linda Black, another officer – senior constable Antony Caracatsanis – said he tried to interrupt JC with his car because he was worried she had a weapon and was not "contained" in a suburban street.
"I did not want to [JC] was contained so I would stay in my car so I could follow her, "he told the court.
"Because there are houses everywhere, if she were to get into one of the houses, that might have been one of my concerns."
The trial continues.
.