Equities ended the day strong on Wall Street as investors reviewed earnings and inflation data.
The S&P 500 closed 0.3 percent higher to end a three-day losing streak, the Dow Jones ended flat and the Nasdaq added 0.7 percent. The Australian stock market is set for a strong start this morning, with futures at 6.59 AEST pointing to a gain of 50 points or 0.7 per cent at the opening.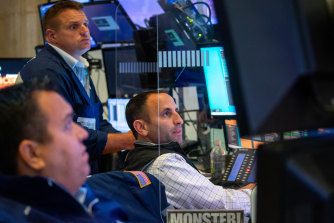 Banks were among the heaviest weights on the market. JPMorgan Chase closed 2.6 percent lower after recent earnings showed the bank was struggling to increase revenue with near-zero interest rates. Falling bond yields also weighed on the sector, which relies on higher interest rates to charge more lucrative interest rates on loans.
Interest rates on the 10-year treasury fell to 1.55 percent from 1.58 percent late Tuesday.
Industrial stocks were evenly distributed between winners and losers after recovering from an early dip. Delta Air Lines throws 5.8 percent after warning investors that rising fuel prices will challenge its ability to remain profitable. It also predicts higher labor costs.
A mix of companies focusing on consumer goods and services is emerging, as are technology stocks.
The latest update on inflation was mostly taken lightly. Consumer prices rose 5.4 percent in September from a year ago, corresponding to the highest rate since 2008. The figure is slightly higher than economists had expected. A large number of companies have dealt with disruptions and delays in the supply chain amid rising demand for goods, and many have warned that it will increase costs and shrink their financial results.
"There's a lot of nervousness and anxiety about inflation right now," said Kristina Hooper, head of global marketing strategist at Invesco. "We are going to see a lot of volatility and shifts in leadership; it's just part of the transition period we are in. "
Many companies have raised prices to offset higher shipping and raw material costs. Analysts are concerned that higher prices could halt consumer spending, the main driver of economic growth. The latest report from the Labor Department showed that the cost of new cars, food, gas and restaurant meals all jumped in September.