If you've had a hard year (and let's be honest, who hasn't?), You might want to make the Christmas entertainment a little easier for yourself. Fortunately, Coles has got your back and unveiled its Christmas program in 2021 in a sneak peek last night.
Every year, supermarkets struggle to produce the best selection of festive items that are both budget-friendly for shoppers and light, delicious and eye-catching enough to adorn the Christmas table. Last year, there were record spending among consumers at Christmas time, and all predictions suggest that 2021 will break that record. So what are we going to spend our dollars on?
READ MORE: The show-stop Christmas watermelon cake illusion
This year, Coles has unveiled over 150 products to help, and last night, 9Honey Kitchen was lucky enough to get a complete attrition from chef and restaurateur Luke Mangan and Coles Ambassador and TV cooking alumni Courtney Roulston.
There are, of course, the usual suspects in this year's collection; full turkey, the puddings, pies and cakes. While the quality and range are all there for these traditional staples, there were some exciting and welcome additions to the range because shoppers are expected to cut loose on their Christmas spending and seek to pamper themselves and their loved ones this year. Then get ready to shake up the Christmas menu.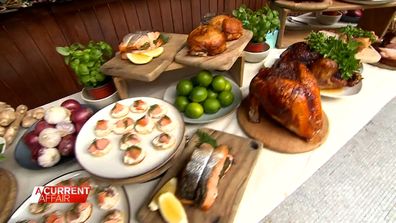 READ MORE: Lightly festive chocolate buttons with two ingredients
In the main course, the show stopper is the cheeseburger spring roll-inspired, we are told by chef Dan Hong and his trendsetter at Ms G's along with some trendy mac 'n cheese sticks with grilled pulled beef stacked on top. But you will also find butter chicken curry puffer and chicken Kiev bite on the main menu.
If you're more into cheese boards than entrees, the expanded gourmet cheese offering includes an Australian washed crust with a bouquet announcing its arrival (and that's a good thing) along with a Spanish truffle sheep's milk cheese twisted with truffle pieces. If a French Roquefort with aged caves or a goat of gouda is more your thing, you have good luck there too. It certainly goes beyond the usual cheeses.
READ MORE: Christmas jelly crutches trifle hack
But up to the electricity grid! This year, there is an excellent selection of hams from beech wood single-smoked legs to triple-smoked and brown sugar-glazed lightly cut ham, with a focus on Australian pork and RSPCA approved. And of course, you'll find recent years 'favorite, Cole's crackling boneless ham, combining pork and ham into one. This year, they have also added a crackling ham with ribs to the menu. The roast with six grates is salted and smoked, but also includes the crackling finish, which is quite a combination, and we suspect it will be a hit in the series.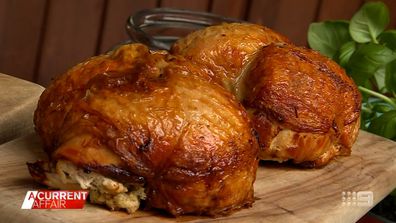 For the first time ever, Coles has added duck to its Christmas program. Previously, the supermarket did not stock duck due to welfare issues, but this year it has found supplies that meet its standards so you can see more than one other offer.
A whole duck is offered for another Christmas center, but also the amazing turduck, a tradition that has created a lot of curiosity over the last 10 years or so in Australia. This wonder with three birds is a wrapped combination of turkey, duck and a chicken-hence the turdock. But in Coles' case, the turkey and duck come with Davidson plum, five spices and pistachio filling and are wrapped in a partially boned chicken, making slicing easy. It will definitely be a naughty centerpiece.
If you're always a little worried about cooking a whole turkey, try a turkey pillow that is boned and stuffed with truffle mushroom risotto to keep it moist. Don't worry, whole turkeys are also offered in several varieties with a focus on animal welfare.
The supermarket is also big on offering options, as our menus vary and expand with different dietary needs. So the join is things, including a beautiful Atlantic salmon roast with lemon and herb jam and Cole's plant-based Christmas roast.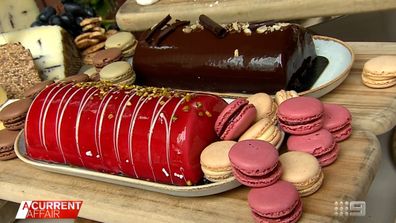 Desserts have also been given a makeover with truffle bowls to serve the whole family in chocolate and berry varieties, along with two-mousse logs with a mirror glaze finish made with Belgian chocolate (also in chocolate or berries). There's also the famous naked pavlova, so you can top it yourself — which chef Luke Mangan claims is as good as his mom's or mini-Vienna ice cream sticks, which will definitely be a huge hit.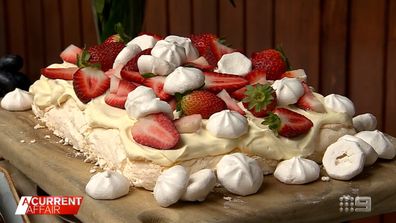 The revelation of Christmas 2021 was epic and definitely got water in my mouth. Each portion of the meal also has wines and beverages recommended for pairing so you can breathe easily when choosing beverages. And candies? Recyclable and plastic-free.
We can't wait to see what the Christmas spread looks like in Australia this year.
For a daily dose of 9 Honey, Subscribe to our newsletter here.