Mining giant Rio Tinto is investigating the use of biomass to replace coal in the emissions-intensive steelmaking process, putting pressure on Australia's largest miners to tackle their customers' huge carbon footprint.
After years of laboratory research, the country's largest iron ore exporter said it had begun testing the "patent-pending" process that combines raw plant material with microwave technology to remove oxygen from iron ore and convert it to metallic iron.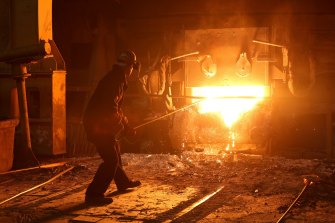 If trials and major testing of the technology prove successful, Rio said there was potential for it to be developed on a commercial scale to help reduce greenhouse gases from the carbon-heavy steelworks.
"We are encouraged by early test results of this new process, which could provide a cost-effective way to produce low carbon steel from our Pilbara iron ore," said Simon Trott, CEO of Rio Tinto.
Top Australian miners including Rio Tinto, BHP and Andrew Forrest-backed Fortescue have all committed to achieving "net-zero" emissions by at least 2050 — removing as much carbon dioxide from the atmosphere as they emit. But pressure has been building from investors and a wider society for the sector to do more and take responsibility for the emissions from the end-use of the commodities it sells around the world, known as "Scope 3 emissions", which is far greater than emissions from miners' own business.
Loading
The steelmaking industry – which mixes iron ore and coking coal in blast furnaces heated to more than 1,000 degrees to knock out molten pig iron – is a major contributor to global warming and accounts for 8 percent of world emissions.
Last week, Fortescue unveiled the mining industry's most ambitious Scope 3 target to date, promising to neutralize greenhouse gases in its global value chain by 2040 by cooling its fleet of iron ore carriers and developing "green hydrogen" to replace coal in Asian steelworks blasting furnaces.
"Green hydrogen" – produced using a renewable energy-driven process to split water into hydrogen and oxygen – is touted as a growth technology because of its potential to decarbonize parts of the economy that cannot be easily electrified. On Wednesday, the NSW government unveiled subsidies of up to $ 3 billion to spur hydrogen production in the state.