This week we saw a crescendo of Australian business support for climate change. The Business Council of Australia proposed strong emission reductions. News Corporation launched a campaign to support a 2050 net zero target. The Australian Financial Review ran a climate summit. Many years of climate action supporters, Andrew Forrest and Mike Cannon-Brookes, made big promises to invest further in green technology.
It's great to see Australian business step up to the climate challenge. The environmental, social and corporate governance website Purpose Bureau shows that more than 700 of the largest Australian companies have now committed to reducing their emissions to zero by at least 2050. The challenge now is to put words into action – – and there is a long way to go.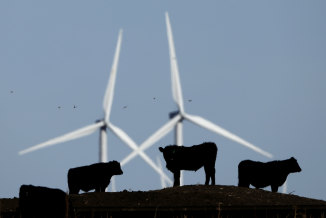 Pioneering data released today shows that Australia's large companies are far ahead with commitments than with concrete emission reductions. This data from Accenture calculates the "emission rate" (greenhouse gases per Dollar in turnover) for large companies around the world. It then matches each company's emission rate to the International Energy Agency's emission reduction paths for its industry. The best companies emit at a level that is consistent with a path to a global temperature rise of 1.5 degrees, and the worst companies' emissions are consistent with a path to hazardous heating above 3 degrees.
Some Australian companies have the best practices in the world. Medibank, Macquarie, Commonwealth Bank, Cochlear and Brambles are just some of the companies that have issues per share. Dollars in turnover in line with the IEA's path to 1.5 degrees or lower. But overall, only 24 per cent of Australia's largest listed companies have emissions in line with keeping global warming below 1.5 degrees. This compares with 61 per cent of large companies in the UK and 53 per cent in Europe.
In other words, three quarters of Australian companies are currently emitting at a rate that would lead to temperature rises above 1.5 degrees. And more than a third have emissions in line with a path to hazardous heating levels above 3 degrees.
Loading
The worst performing industries in Australia are mining, energy and consumer services, where more than half of companies have emissions in line with a path to hazardous warming levels at 3 degrees or higher.
These data highlight the importance of examining the recent climate commitments made by Australian companies. Not all obligations are the same. Some represent strong credible action and some are PR spin or "greenwashing".
The most credible climate commitments are those that include deep long-term emission reductions as well as concrete short-term measures. For example, Woolworths has committed to zero-zero emissions by 2050, but has also committed to strong targets that need to be reached much faster. Similarly, Coles and Telstra have committed to a short-term goal of 100 percent renewable electricity by 2025 on their way to zero by the middle of the century.