London: BHP shareholders have offered a resounding endorsement of the Australian mini-giant's climate transition strategy as CEO Mike Henry doubles his doubts about so-called "green steel".
A vote at the BHP General Assembly in London on Thursday morning local time secured 83 per cent support for the climate change roadmap — a much stronger result than the knife-edge result some analysts had predicted.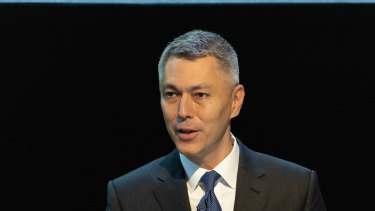 The miner has some of the industry's most aggressive emission reduction policies, but activists and some proxy advisers are not convinced that the proposals are ambitious enough.
After speaking with reporters after the meeting, Henry admitted that there were differing views on the company's approach to climate change.
"I think it just reflects the dynamics we are in, the world is in: that there is a need for swift action. [but] many different views on what that action should look like, "he said.
"But even from those who say that the plan does not go far enough, there is a recognition that the plan is a step forward, that it takes us in the right direction, that it makes some new, significant commitments or goals for BHP. and from within the sector. "
Australian shareholders will vote on the climate plan at a meeting in Melbourne on 11 November.
BHP has previously set a target of reducing direct emissions by 30 percent by the end of the decade and hitting net zero emissions by 2050. Earlier this month, it announced an extension of its targets to reduce greenhouse gases generated when customers burn or process the raw materials it sells, known as Scope 3 emissions.