A financial advisor and author of a book on Canada's housing market believes that the real estate market in Toronto and the surrounding area, including Mississauga and Brampton, is due to a major crash.
Hilliard MacBeth, a 42-year financial adviser from British Columbia and author of "When the Bubble Bursts: Surviving the Canadian Real Estate Crash", is concerned about rapidly rising house prices in the Greater Toronto Area (GTA) and other markets and believes a to the housing crash of the late 1980s and early 1990s is approaching.
In his book, MacBeth refers to a theory by the late economist Hyman Minsky that all asset bubbles, whether housing, stocks or tulips, follow a similar pattern before eventually collapsing.
Investopedia.com defines a Minsky moment as: "The start of a market collapse caused by the ruthless speculative activity that defines an unstable bullish period."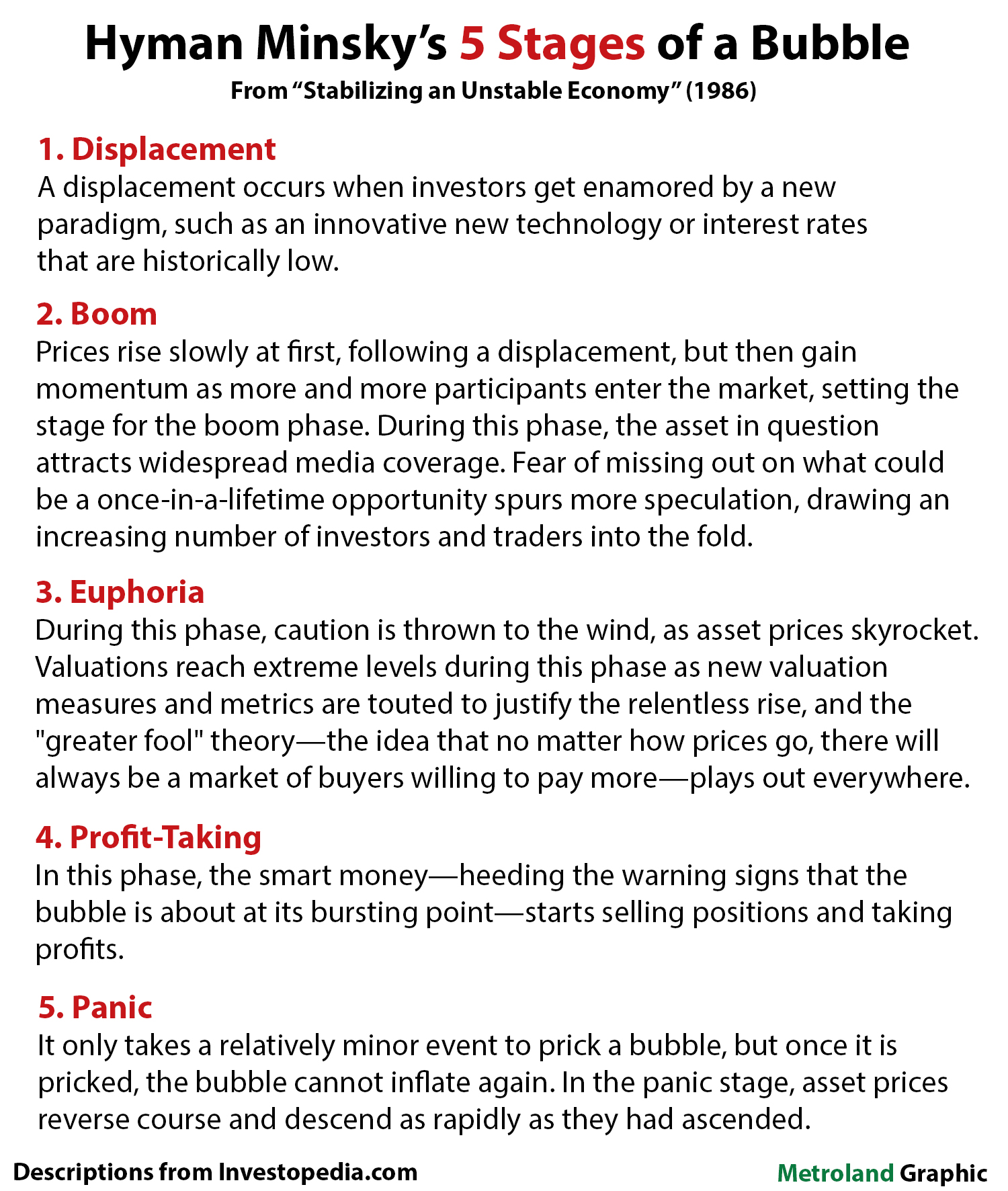 "The last time this happened was in the early 1990s," MacBeth said in an interview in early July, adding that Canada's housing market also came close to a Minsky moment during the global financial crisis of 2008, when housing markets all over the globe went into free fall.
"Even in Canada it is not known, but the banks received a huge amount of help from the Federal Reserve and a government program through CMHC (Canadian Mortgage and Housing Corporation) called 'Insured Mortgage Purchase Program'. Without all that, we would have had a Minsky moment in 2009, "he said.
MacBeth added that the current housing bubble is much worse than it was in 2008 and much larger than the one seen in GTA in the 80s and 90s. He believes house prices could correct 50 to 60 percent or more in the coming years.
In 2008, the Toronto Regional Real Estate Board (TRREB) reported an average annual selling price of $ 379,080 in Toronto and GTA for all types of homes. This was up to $ 1,136,280 from September 2021.
Below is a graph showing the average price change in all GTA markets monitored by TRREB from December 2011 to September 2021.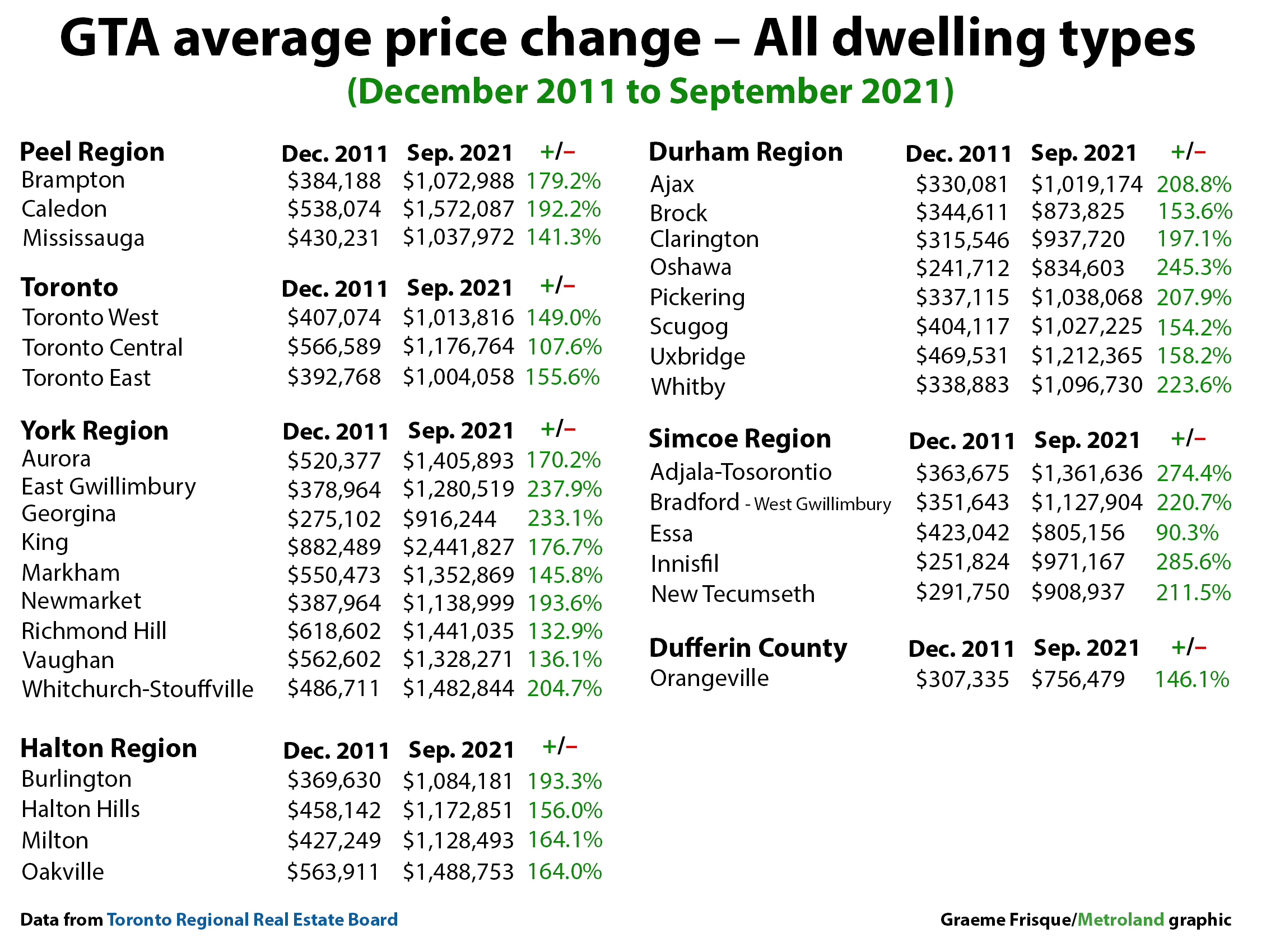 According to MacBeth, five false prevailing beliefs have contributed to the rapid rise in prices and the current affordable crisis.
• House prices are always rising
• Mortgage debt is good debt
• There will never be a financial crisis in Canada
• Interest rates never rise
• The government will never let housing prices fall
"It's the perfect storm for a massive housing bubble that we're getting now," he said.
MacBeth blamed cheap debt as the main factor behind housing bubbles and households defaulting on their mortgages as a catalyst for possible market collapse.
"If everyone woke up early tomorrow and … changed their attitude to going deeper into debt to try to get out of debt, it would trigger a recession," he said. "But it would also trigger a debt deflationary crisis where some people would get into trouble. It does not take very many, only about five to ten percent of the population to get into trouble. "
MacBeth is not alone in his concerns about the housing market, with the Bank of Canada (BOC) marking household and mortgage debt as one of its primary concerns in its annual Financial System Review (FSR) in May.
"The biggest domestic vulnerabilities are those associated with housing market imbalances and high household spending," BOC Governor Tiff Macklem said during his FSR press conference.
"The increased issuance of mortgages with high loan-to-income ratios is of major concern … It is important to understand that the rapid rises in house prices are not normal," he added.
However, not everyone agrees with MacBeth's analysis, with many critics pointing out that his book was first published in 2014, and house prices have only risen since then.
"I have not made a mistake, but I have been early," MacBeth said.
.