NSW has registered 301 new cases of COVID-19 the day before students return to school, community sports returns and masks are no longer required in offices.
As announced Saturday afternoon, the state has reached its 80 percent vaccination target and unlocked new levels of freedom for residents taking effect on Monday.
Case processing – the lowest daily sum for more than two months – came from 69,107 tests over a 24-hour period. Ten people also died with the virus.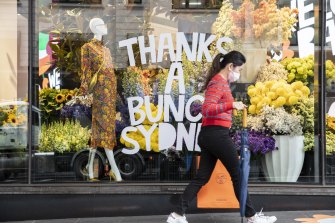 The proportion of the state's over 16 population with at least one vaccine dose has now reached 91.9 percent, and 80 percent have had two doses. Prime Minister Dominic Perrottet said on Saturday "the summer in NSW looks good" when he revealed the vaccination milestone on Twitter.
"It feels great to break this news. A big thank you to all the nurses and vaccination nodes at NSW Health, the general practitioners, the pharmacists and every single person who rolled up their sleeves to get us here, "tweeted Perrottet. "It's been a long wait, but we've done it."
Kindergarten, year 1 and year 12 students return to school on Monday for the first time since being sent home at the end of semester two in June, with COVID security measures. The remaining vintages follow a week later.
Fully vaccinated NSW residents will also have extended freedoms from Monday, including being able to participate in community sports and have up to 20 visitors in their homes. Masks will no longer be required in offices in an attempt to revive CBD, while there will be no ceiling for attending weddings or funerals.
Indoor dancing and drinking while standing in pubs is also allowed.
State ministers are pushing their federal colleagues for further easing that will allow NSW to welcome foreign students and tourists as soon as possible.