Washington: FBI agents searched homes in Washington and New York City linked to Oleg Deripaska, a Russian billionaire with ties to the Kremlin and to Paul Manafort, the then president of Donald Trump's US presidential campaign in 2016.
Agents carried boxes out of a mansion in one of Washington's richest neighborhoods with yellow "Crime Scene, DO NOT ENTER" tape over the front yard and dragged a vehicle away.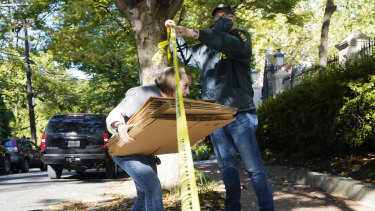 A spokesman for the US Federal Bureau of Investigation confirmed on Tuesday (Wednesday AEDT) that the agency was carrying out a court-authorized law enforcement activity in the home, which Washington Post previously reported was linked to the Russian oligarch.
The specific reason for closing and searching the Washington Palace was not immediately clear, and the FBI spokesman did not provide details.
A Deripaska representative said the home as well as the house in New York belong to relatives of the oligarch. Reuters could not immediately determine Deripaska's whereabouts.
A spokesman for the FBI's field office in New York confirmed "law enforcement" at the home in the Greenwich Village neighborhood of New York, but declined further comment.
Deripaska, 53, has been under U.S. sanctions since 2018. Washington imposed sanctions on him and other influential Russians because of their ties to Russian President Vladimir Putin following alleged Russian interference in the 2016 election.
Deripaska once employed Manafort, who was convicted in 2018 of tax evasion and allegations of bank fraud and was among the key figures investigated during investigations into alleged Russian interference in the 2016 election, which Moscow denies.