Keep an eye on your home anywhere, while also using AI smarts to keep you informed without having to constantly watch, Google's latest Nest cameras and subscriptions are surprisingly comfortable when it comes to home security products.
I have always called for caution with connected safety equipment. They can contribute to unhealthy attitudes and behaviors, and companies cultivate or offer a sense of insecurity and suspicion of selling them. But while it felt ugly to put cameras on the outside of my house and I do not like how quickly I went over to check the feed on my phone instead of just looking outside, there is certainly a real tool too and a certain charm here.
The $ 329 Nest Cam is very white and round and Google-looking, but it's clearly a security camera, so it's a little authoritarian, and it's really well designed. It is waterproof and magnets for the included base plate at any angle, as the plate also has a strong magnet so you can mount it on any metal surface without having to screw anything in (although all hardware is included if you need it). I laid it on a drainpipe overlooking my yard.
Its rechargeable battery should last a few months or you can run it from the mains. If you connect it inside, you can get an adjustable base, and if you can get a waterproof power cable with clips, screws and wall anchors on the outside, both of which cost $ 60. Once the camera is set up, it will appear in your Google Home app you can watch live feed and history or press the microphone button to project your voice through the camera speaker and give your dog (or any uninvited guests) a real scare.
Meanwhile, I also have a Nest Doorbell by my front door, which has a wide enough view to see both the roof and the floor on my porch. Like the Cam, it can also run on a rechargeable battery for a few months at a time, even if you have to screw the base plate in. If you want it wired, it must have cables from a transformer like a standard doorbell, and it will even be interface with your old-school bell if you want it.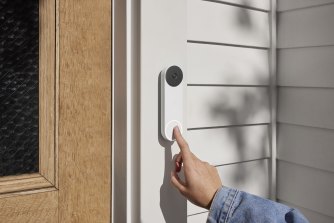 I had no existing doorbell, so it works exclusively on Wi-Fi and sends, when pressed, a message to my phone as well as a bell and spoken message ("someone is at the front door") to every Google speaker and screen in the House . From the Google Home app (or message) you can see who's standing by the door, and again you can project your voice as an intercom. I chose a magnificent Westminster bell for the bell, but my family discovered almost immediately that you can have seasonal chimes for a limited time, so now every courier is welcomed by screaming cats or yawning ghouls for Halloween.
What sets Nest products apart from other Wi-Fi camera ecosystems is smarts. Instead of recording all the time, Nest looks for "events" that you define to record. So for the doorbell, you can say that a car arriving is an event, or that someone walking up your driveway is an event, while the neighbor leaving their house is not. It can also register packets as an event, which is very convenient.
For Nest Cam, you may want to have an event for both humans or animals if you are concerned about offenders on two or four legs. You can go very broad and say that every move is an event, or just as narrow as saying that only animals in your vegie patch count.