Washington: The House on Friday voted AEDT to hold Steve Bannon, a longtime ally and aide to former President Donald Trump, in contempt of Congress for defying a subpoena from the committee investigating the violent January 6 Capitol uprising.
In a rare show of top partisanship on the floor of the House, the committee's Democratic president, Mississippi Representative Bennie Thompson, led the debate along with Republican Representative Liz Cheney of Wyoming, one of two Republicans on the panel. Still, the vote was 229-202, with most GOP lawmakers voting "no" despite the potential consequences for Congress whose witnesses are allowed to ignore its demands.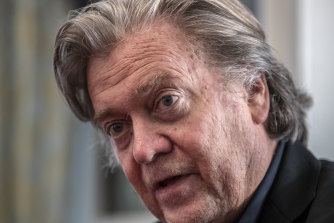 The House vote sends the case to the U.S. Attorney's Office in Washington, where it will now be up to prosecutors in the office to decide whether the case should be submitted to a large jury for possible criminal charges.
On Tuesday, the Jan. 6 committee voted 9-0 to recommend contempt charges after Bannon last week missed a scheduled interview with the panel citing a letter from Trump's attorney ordering him not to answer questions.
The committee noted that Bannon was not working in the White House at the time of the attack and that he not only spoke to Trump before that, but also promoted the protests on his podcast, predicting that there would be unrest. On January 5, Bannon said "hell is going to break out".
The partisan split over Bannon's subpoena – and over the committee's inquiry in general – is symbolic of the raw tensions that still grip Congress nine months after the Capitol attack. Democrats have vowed to investigate the attack extensively, with hundreds of Trump supporters beating past police, wounding dozens of officers and interrupting the election count, which confirmed President Joe Biden's victory.
Lawmakers in the commission of inquiry say they will move quickly and forcefully to punish anyone who does not cooperate with the probe.
"We will not allow anyone to derail our work because our work is too important," Thompson said ahead of the vote.
Republicans call it a "witch hunt," saying it's a waste of time and arguing that Congress should focus on more important issues.