Victoria
has registered 1,935 new cases of coronavirus and 11 more deaths overnight, while residents await several changes to the state's reopening of the roadmap.
There are currently nearly 25,000 active cases in Victoria, and the state's full vaccination rate is now at 73 percent.
More than 780 Victorians are currently hospitalized with the virus, of which 146 are in intensive care.
Changes to
Victoria
's Freedom Roadmap is expected to be announced today as the state quickly closes in on the 80 percent vaccine milestone.
Caps for major sporting events can be scrapped, meaning up to 75,000 fans can fill the MCG stands on Boxing Day if double-dosed.
Victoria's Prime Minister Daniel Andrews has previously stated that the number of people allowed to visit homes could increase and families could possibly get 30 people to gather for Christmas Day.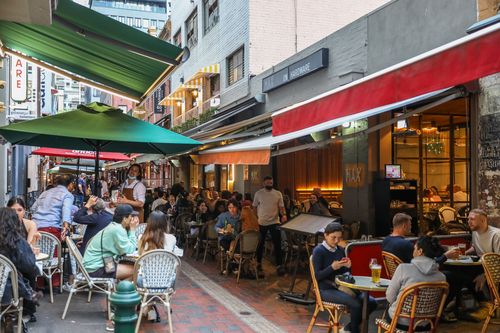 Density limits can also be adjusted in an attempt to bring relief to the struggling retail and hospitality sector.
According to the Australian Retailers Association, COVID-19 restrictions have led to losses of $ 55 million a day in Victoria.
The opportunity for good news comes as the state celebrated its first weekend outside the lockdown with cafes, restaurants and shops reopening for the fully vaccinated.
However, not everyone was happy, with dozens of protesters in order a
Melbourne
dining room yesterday afternoon to demonstrate against rules banning unvaccinated people from entering venues and shops.
Many failed to wear masks as they sat on picnic rugs on the Acland Street trail.
Police are monitoring the stunt, but no arrests were made.
Victoria recorded 1750 new ones
COVID-19
cases yesterday and a further nine deaths.