When the half-time whistle sounded, with Liverpool 4-0 and everyone inside Old Trafford well aware that it could have been seven, the bus rang from Manchester United fans.
At half-time against Atalanta in the Champions League last Wednesday night, with United 2-0 down, there had been a volley with jers before the support for the team and the manager, Ole Gunnar Solskjær, came through. United came together to win 3-2.
Not here. The buck was maintained in their intensity, anger bubbled, and it was certainly a long and lonely walk for Solskjær back along the sideline and into the tunnel. At that moment, it felt like we were witnessing the end of a manager who is well-liked by United diehards but has struggled to keep his head above increasingly turbulent waters this season. Never in the Premier League era had the club been four goals down at home at the break.
The second half was played to a soundtrack of thralls from the traveling Liverpool fans. They chorted about Ole sitting at the wheel and singing that he had to stay. Their requests for a wave from him went without sound.
Mohamed Salah scored his team's fifth in 50 minutes — his third of yet another high day — and at the time, it seemed like the final scoreline could have been anything. The feeling took off when Paul Pogba, as a half-time replacement for United, was sent off just after the hour to jump in an ugly tackle on Naby Keïta. The Liverpool midfielder was carried off on a stretcher.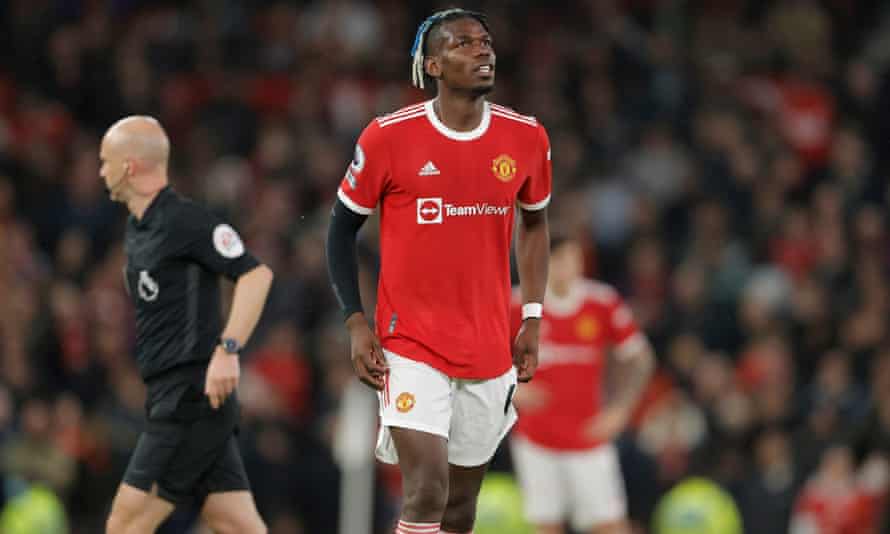 Liverpool, however, let it go, which was a relief for Solskjær, just as it was the fact that the jokers from the crowd full time were not as vitriolic. Most of the Norwegian's opponents had long since left the earth.
Liverpool was excellent. Again. They remain unbeaten this season and statistics show they have scored at least three goals in every away game, with Salah's hat-trick continuing his club record. It is now an astonishing 10 matches on the spin where he has found the net.
For Solskjær and United, the humiliation was total. Liverpool pressed brilliantly and they were ruthless in the last third and shredded Solskjær's game plan early and some United fans were on their way to the end in the 38th minute as Salah added goals from Keïta and Diogo Jota to make it 3-0.
Sir Alex Ferguson was pictured in the stands shaking his head slowly, and the only question on all lips was whether Solskjær could survive from here. United are eight points behind league leaders Chelsea; the hoped-for title challenge in splinters before the clocks go back.
It was not as if this result had come out of nowhere where United had gotten rid of it several times this season. But for David De Gea saves at Southampton, Wolves and West Ham, the team would have already been down by a handful of points. This was the day when everything fell apart, and after what was a heaviest home game against Liverpool, the board's faith in Solskjær will be tested like never before.
Solskjær's double focal point for Fred and Scott McTominay was overwhelmed, with Liverpool able to do pretty much whatever they wanted during a first half that caused United's fan base to stumble out of embarrassment. Time and time again, the guests played up through the United lines. Where were the challenges, the pressure on the player in possession?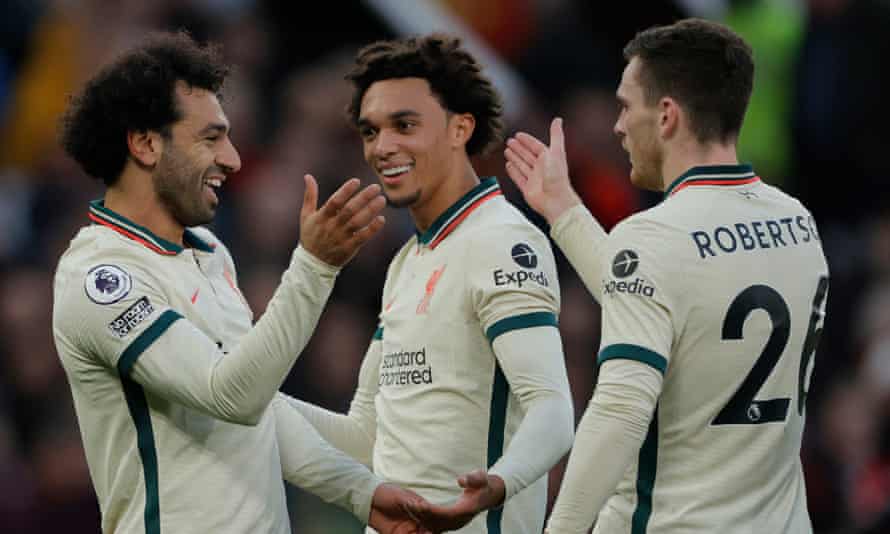 The game could have been shaped differently if Bruno Fernandes had not fluffed a glorious four-minute chance and snatched after his shot as he was well placed and Liverpool then piled on the pain.
Keita's opener came after Luke Shaw played Salah on the spot – the first sign that United's last line was all over the place. Salah's assist was simple, and so was the finish, and the other was probably the worst of the game from a United's point of view.
Harry Maguire got into a terrible mess with Shaw on the edge of the United area, and it allowed Keïta to go far for Trent Alexander-Arnold. He crossed low and hard; Jota, preferred to Sadio Mané, slipped and slithered in the wet grass.
When United had to defend, their supporters looked with their fingers. Liverpool were faster and smarter and it almost went under the radar that Roberto Firmino missed two great chances in the first half and De Gea made a save to deny Salah.
As Salah flicked into the third, after a Keïta post and more statuesque defense, Sir Kenny Dalglish and Ian Rush could be seen almost doubled with laughter on the beautiful seats.
Cristiano Ronaldo lost his head after failing to beat Alisson from a Mason Greenwood pass, and he kicked out against Curtis Jones, who had come on the field for the injured James Milner. Ronaldo has been giving his marching orders, his manager will not be happy. Liverpool responded by working yet another opening, which Salah completed from Jota's pass.
Solskjær just wanted it to end – a dark comic detail that came in 53 minutes when VAR ruled out a Ronaldo finish for a hairline offside. At the time, Salah had run on Jordan Henderson's magnificent through ball to score again, and it was a lot for Pogba, who was sacked after a VAR review.
De Gea would make a fine save for refusing Alexander-Arnold. United had a little enough.