Parliament House is no stranger to urgency.
It is a building driven by it. When the bells ring, politicians rush to vote.
But in the past week, bells have not had much to do with the speed going on within the federal national party. It has been more about rushing for cameras than it has been about rushing to agree to a 2050 carbon net emission.
And then it was supposed to be late again yesterday when Deputy Prime Minister and Citizens' Leader Barnaby Joyce hurried out in front of the cameras to commit his party, at least in principle, to that climate pledge.
"This is not going to go on all night because you have to do it at six o'clock," Joyce said when asked at his press conference at 6 p.m. 17:40.
Here stood Joyce, his deputy David Littleproud and Senate Leader Bridget McKenzie.
Their mug came on the news, but the details of what they got in return for their support were missing – it was something this trio was not in a hurry to reveal.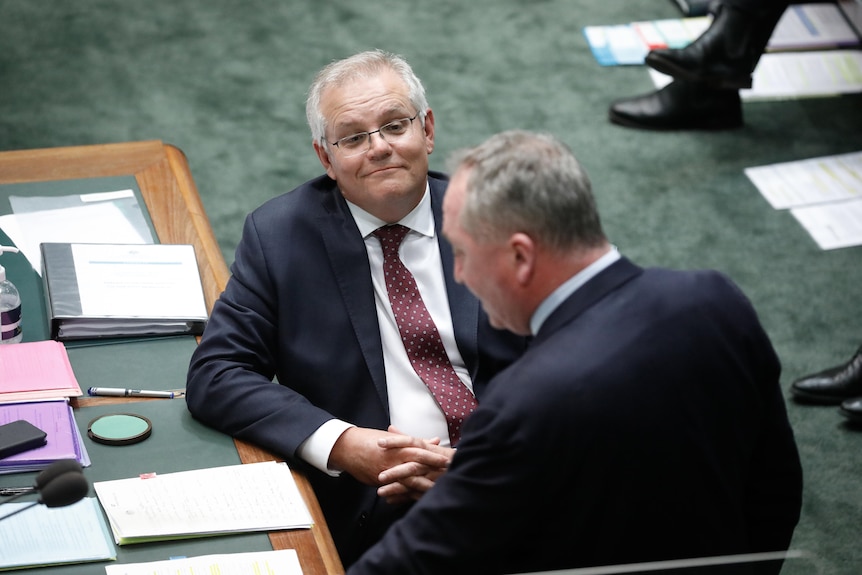 Morrison gets what he wanted from the citizens
Liberal Prime Minister Scott Morrison is able to assume that role because he rules in coalition with Joyce's nationals.
That's why Morrison, whose Liberals largely supported net-zero, needed the citizens on board to pay the price of admission at next week's global climate conference, known as COP 26, in Glasgow, Scotland.
Net-zero is the least that countries are expected to back in Glasgow, where the pressure will be on leaders to set more ambitious targets for 2030.
Secrecy has long shrouded the agreement reached by the leaders of the Liberal and National Parties, the so-called coalition agreement, which oversees how they govern together.
In what could be called Coalition Agreement 2.0, Climate Edition, we know that the citizens have scored something from the Liberals because Joyce, Littleproud and McKenzie were eager to spray, that was what they had achieved.
But what's in it or the cost – which some have speculated may be in the tens of billions of taxpayers – will remain in the dark, at least until the Cabinet signs an agreement in the coming days.
Joyce likes to call the citizens the "most democratic party" in parliament. While this is the case, it is clearly not the most transparent.
This is, after all, a party that refuses to announce the votes in leadership polls, the most recent of which returned Joyce to the country's second highest office.
Joyce will once again, at least temporarily, rule the country as acting prime minister when Morrison heads to Europe later this week.
This trip means Joyce will become acting prime minister as his government signs up for a net zero – a policy he spoke out against for a long time when he was on the back foot.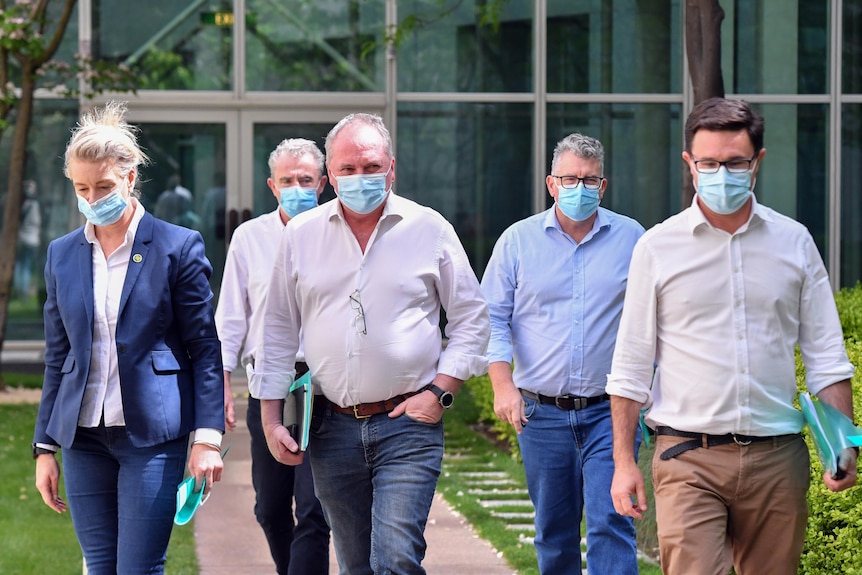 Boots made to go
The soles of the RM Williams boots that Nats would like to wear have received solid training last week as they hurried through the building on their way into closed party meetings.
They have walked a lot through farms with cameras in – Deidre Chambers, which is a coincidence.
Most in the government expected the two parties to reach an agreement before the prime minister flew out.
But it was never easy to get there for the coalition, as the citizens were eager to be seen fighting.
Their leader knows all too well the challenge some in his party will face in their constituents, where Independent, Shooters, One Nation and Clive Palmer candidates will be eager to hit those who are unable to stand up to Morrison's Liberals.
While the citizens who had been pushing for the party to back zero were celebrating yesterday, Joyce chose not to speak to the opportunities the deal would provide the regions.
Instead, he used his time in front of the cameras to send a message to those who had been against politics, both in his party room and beyond.
"To stand up for them is not to stand outside. To stand up for them is to make sure you are in the room where the decision is being made," he said.
"Heroes who have no result, heroism that leaves nothing but a rhetorical bloom, but leaves the person in pain in the same position as they were is not a result that National's party venue supported."
The decision to back zero means that outspoken frontbenchers – McKenzie and Resource Minister Keith Pitt – must decide whether they are willing to come on board.
They have spent weeks rubbing the policy, and if they cannot support it, they must go to the back seat, but few in the party expect them to do so.
The question now is, are they moving towards a compromise or away from what they have been saying in recent weeks and months?
Either way, they are clearly not in a hurry to say.
.