NSW Premier Dominic Perrottet has announced that school sports will resume next week, but acknowledges that "there will be challenges" when students at all year levels return to the classroom.
"We know this will be uneven, but it was very important that we get children back in the classroom as soon as possible," he said at a news conference this morning.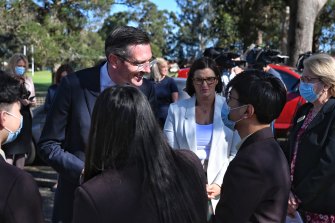 NSW Education Minister Sarah Mitchell said more than 500,000 students returned to school today after many weeks of learning from home.
"For so many, this day could not have come fast enough," she said.
Mitchell also announced an extension of the HSC (Higher School Certificate) special consideration program, reviewed by the NSW Education Standards Authority.
"We know that this year's class in 2021, the year 12 students, has been affected," she said. "Many of them did not have the HSC year they had expected."
Loading
The Minister added that all students who have been affected for at least six weeks during the learning-from-home period will be eligible to apply.
She said principals will forward these applications, including to individuals, and that "whole group cohorts" will be accepted for consideration, e.g. Those in the former local government areas who are concerned in the western and south-western part of Sydney.
Grades will be moderated in a way that takes into account the learning environment for students this year, the minister said.
Mitchell also noted that next week's return of school sports would be in a COVID-safe way to school activities and would not involve outside visitors. She noted that sports are an important part of the school experience.