Australia will provide 10 million doses of vaccines from its domestic supply to Southeast Asian nations and give the region $ 124 million to help turbo-charge their economies and maintain stability in a challenge to China's growing influence in the region.
Prime Minister Scott Morrison addressed the Association of Southeast Asian Nations (ASEAN) on Wednesday afternoon, declaring that the region's economic recovery and stability were central to Australia's own security and welfare.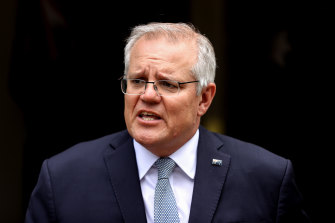 Morrison also moved to reassure the Southeast Asian nations that the recent AUKUS defense pact with the United States and Britain to help Australia build nuclear-powered submarines did not undermine regional stability or the authority of ASEAN.
"As we continue to fight COVID-19, we know we can not react and get on our own," he said. "There is no higher priority for all of us than access to safe and effective COVID-19 vaccines."
Morrison said Australia had already shared 4 million COVID-19 doses with the ASEAN countries "and we expect to share millions more by the end of next year".
Loading
"I am also pleased to announce that we will share at least another 10 million doses from our domestic supply with the ASEAN countries by the middle of next year."
He said Australia would create a new initiative, providing $ 124 million to "fund projects jointly identified by ASEAN and Australia to address complex and emerging challenges".
"Challenges such as the recovery of COVID-19, terrorism, transnational crime, energy security and the transition to lower emission technologies, the circular economy and, of course, our healthy seas."