A man has been charged with causing a passenger train derailment south of Wollongong after a week of manhunt.
Key points:
After a six-day manhunt, NSW police charge a man in connection with a train derailment at Kembla Grange
Lake Illawarra detectives arrested a 47-year-old Berkeley man earlier today
Four people were injured when the train hit a van parked on the rails
Police launched a criminal investigation after a train with four carriages collided with a stolen van left on the railway line near Kembla Grange station last week.
The train driver, a guard and two passengers were brought to the hospital and the train and railway infrastructure was significantly damaged.
Witnesses told police they observed a man running from the scene moments before the collision.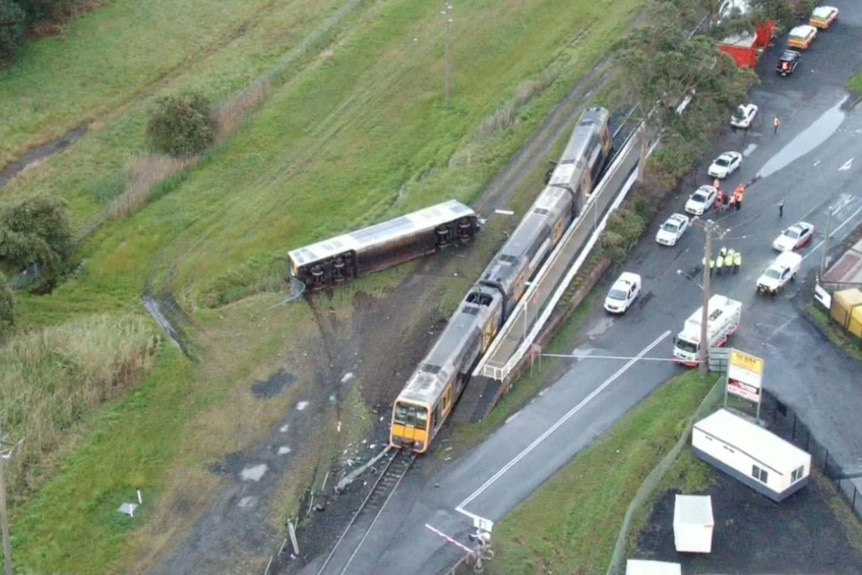 Earlier today, police arrested a 47-year-old man in Dapto and took him into custody at Lake Illawarra police station.
He has been charged with endangering the safety of persons on a railway and obstructing a locomotive.
Police also confirmed that a trolley with a go-kart was also found near where the crash occurred, along with a large hole in a security fence that led to an adjacent racetrack.
The man is also charged with theft, driving without consent, driving without a driver's license and violation of his bail conditions.
He has been denied bail and will appear in Wollongong Local Court tomorrow.
.