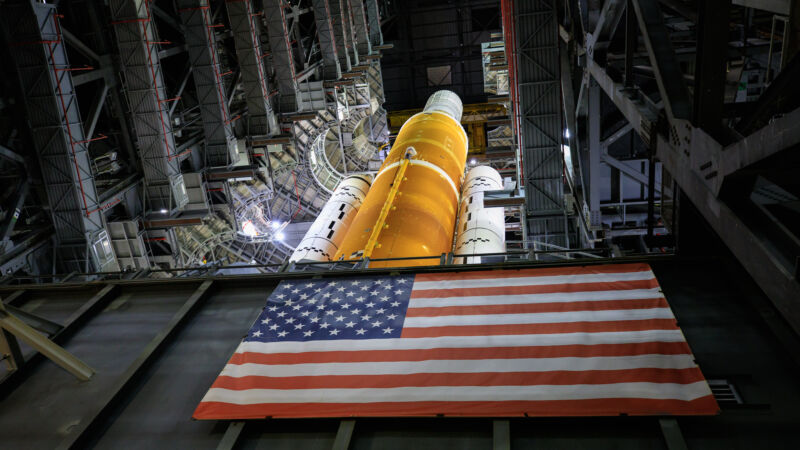 NASA has asked the US aerospace industry how it would go about "maximizing the long-term efficiency and sustainability" of the Space Launch System rocket and its associated ground systems.
The request comes as NASA and its chief contractor for the rocket, Boeing, approach the launch pad after a long, cumbersome and expensive development process that has lasted more than a decade. The heavy SLS rocket carrying an Orion space capsule should finally make its debut in the first half of 2022.
In its request, NASA says it would like to fly the SLS rocket for "30 years or more" as a national capability. In addition, the agency wants the rocket to become a "sustainable and affordable system for moving people and large loads to cislunary and deep space destinations."
NASA sees itself as the "anchor bearings" of the launch system, acquiring one manned flight a year for the next decade or longer. Where appropriate, the agency said, the industry will "market" the big launcher to other customers, including the scientific community and other public and non-governmental entities.
50 percent price drop
How do you turn a system that has been anything but affordable and sustainable into something that is affordable and sustainable? NASA says it wants to transfer ownership of rocket production and ground services to private industry. In return, this private contractor should build and launch SLS with a significant saving of 50 percent or more compared to the current industry's "baseline per airfare."
In particular, NASA has never publicly disclosed this baseline airfare. Ars asked NASA's communications office on Tuesday about this figure, but as of Wednesday morning, there has been no answer. In 2019, the White House Office of Management and Budget estimated the cost of an SLS launch per year at "over $ 2 billion." Subsequently, NASA did not reject that figure, but it has not been transparent with taxpayers about the rocket's expected cost.
Still, NASA is now proposing to halve these costs – whatever it is. And it seeks to fly the Space Launch System rocket well into the mid-21st century.
This may be theoretically possible, although the agency's history with the big rocket has proved to be full of wildly over-optimistic assumptions. When the SLS rocket was conceived in 2010 and formally announced in 2011, it was to be launched by the end of 2016 and developed for $ 10 billion.
Among the rocket's chief architects was then-Florida Senator Bill Nelson, who steered billions of dollars to the Kennedy Space Center in his home state to have upgraded ground system equipment to support the rocket. Back in 2011, he proudly said the rocket would be delivered on time and within budget.
"This rocket comes in at the expense of … not just what we estimated in the NASA Authorization Act, but less," Nelson said at the time. "The cost of the rocket over a five- to six-year period in the NASA approval bill should not be more than $ 11.5 billion. It costs $ 10 billion for the rocket." Later, he went on to say, "If we can not make a $ 11.5 billion rocket, we should close the store."
After more than 10 years, and more than $ 30 billion spent on the rocket and its Earth systems, NASA has not closed the store. Nelson has rather stepped up to become the space agency's administrator.
Rejects a trend
In addition to the cost of the rocket, there is reason to be concerned about the idea of ​​flying the Space Launch System rocket for at least three more decades. Virtually the entire global launch industry is considering or moving wholesale towards reusing at least the first phase of large rockets or their engines. SpaceX has led this effort, but other major U.S. launch companies, including Blue Origin, United Launch Alliance, Rocket Lab, Relativity Space and others, are all incorporating recycling into their business plans. The European, Chinese, Japanese and Russian space industries are too.
The Space Launch System, although powered by reusable rocket engines that once flew on the space shuttle, is completely used after each flight.
Furthermore, there is a general feeling in the space community that in order to develop a truly affordable and sustainable exploration plan, it will require the development of recyclable hardware in space. That is, tankable upper stages and tugs and assembly in space, all of which can be launched into orbit on smaller and more affordable rockets. The "Lancer all in one stack" approach worked during the brute-force era of the Apollo Moon program, these proponents say, but it is not sustainable. As Apollo's costs were so high, the program was canceled after only six lunar landings.
NASA is holding a virtual "industry day" at its SLS request on November 10 and wants industry responses by January 27, 2022.
Such an initiative would not be without precedent. In the early 1990s, NASA sought to consolidate its space shuttle operations under a single major contractor. Rockwell International and Lockheed Martin formed a company, the United Space Alliance, for this purpose. It operated the space shuttle until the end of the program in 2011. It is not at all clear that the space shuttle's operating costs decreased during this time frame.