Based on a population of 140,000, the current double-dose vaccination rate will be 81 percent.
Furthermore, if the 2019 population estimate of 168,000 continues to be used, the highest possible double-dose coverage will be around 83 percent, even if every single one of the 140,000 current residents is vaccinated.
The data delay will have practical consequences for the city's residents within a few weeks: when South Australia reopens its border on 23 November, visitors coming from a local government area where less than 80 per cent of the population is fully vaccinated will be required to quarantine for seven days.
Ms Sandell said Melburnians in the inner city had increasingly contacted her, worried they would not be able to do things like take the intergovernmental route because vaccination rates were inaccurate.
"It is important that the government provides us with more accurate vaccination data so that citizens can have confidence and do things like travel between the state, but also so that the government can better target any additional vaccination efforts," she said.
Cr Capp said her council had raised the inaccuracy of vaccination data with the Commonwealth on several occasions since August.
"No other municipality has done more than the city of Melbourne to help its community get vaccinated, including several incentive campaigns," she said.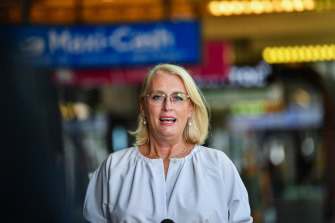 In a statement, the Victorian Ministry of Health confirmed that vaccination rates for people aged 18 to 25 in the city of Melbourne appeared to be significantly below the state average, suggesting a drop in the number of students.
Before the pandemic, international students made up about a third of the municipality's inhabitants.
In Carlton, home to several student residences near RMIT and the University of Melbourne, government data from last week suggests that single-dose coverage is only 55 to 60 percent and 45 to 50 percent for both doses.
In CBD, it rises slightly to 70 to 75 percent single-dose coverage and 55 to 60 percent for both.
Monash University demographer Rebecca Kippen said that while it was difficult to put a figure on how much the city of Melbourne's population had declined, it was clearly overestimated after 18 months of "major demographic upheavals".
According to the Australian Bureau of Statistics' latest state-by-state update from March, Victoria's population fell by 43,000 year-on-year. Dr. Kippen said it was likely a fair proportion were city residents.
In another example of outdated data that skews vaccination rates, Dr. Kippen that Canberra was about to exceed 100 percent vaccination because the capital's population had grown since 2019.
She said the clearest solution would be to use data collected in the August census, which is not to be published until June next year.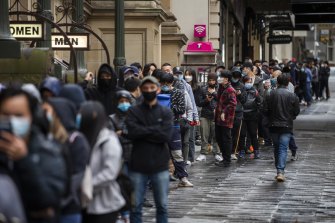 "It would be a huge job to process some of the census data ahead of time. But now we are in a situation where states base policies on these estimates, I think it would be worthwhile," she said.
She also questioned why population figures from June 2019 were used rather than June 2020. Data for June 2021 will only be published in the second half of next year.
A spokesman for the federal health ministry confirmed the use of 2019 data, but did not answer questions about when or how they would be updated.
Loading
Ms Sandell added that she had written to the Victorian Health Department asking them to set up more mini-pop-up clinics in places the city's residents will increasingly visit as the state reopens.
A spokesman for the state Department of Health said mobile vaccination carts and a clinic in Melbourne Town Hall for international students and people facing disadvantages improved the city's vaccine intake.
"Melbourne is home to many young and diverse communities – including some of our most vulnerable," he said.
"We are doing everything we can to increase the vaccination rate, get doses where they are needed and give people the support they need."
Fascinating answers to confusing questions delivered to your inbox every week. Sign up to receive our new Explainer newsletter here.